Gluten-Free • Allergen-Friendly • Delicious!
Bella Gluten-Free™ Tender Flaky Biscuit Mix is made with our 100% allergen-free All Purpose Baking Mix, so everyone can eat them. These biscuits are so versatile you can have them for breakfast, mealtime or dessert. Serve them with butter, jam, honey or gravy - or add a few of your favorite ingredients and change them up every time. Stir up our mix…Create Yum! Makes 6-8 Large Biscuits.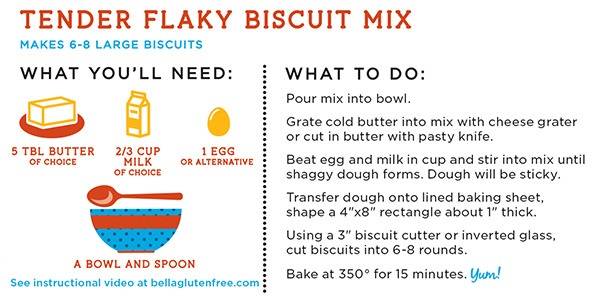 Chef's Tips:
Using a cheese grater to grate your cold butter into small pearl size pieces creates an extra flaky biscuit. (Placing butter in the freezer for 3-5 minutes makes for easy grating.)
Make an allergen-free buttermilk by adding a squeeze of lemon or 1 tsp of cider vinegar to your milk of choice before adding to the mix. Let stand for a minute or two until lumps start to form. (Thin milks will not get lumpy but will still add needed acid to the mix).
INGREDIENTS: Whole Grain Brown Rice Flour, White Rice Flour, Potato Starch, Sweet Rice Flour, Tapioca Starch, Xanthan Gum, Baking Soda, Cream of Tartar, Sea Salt.
Flaky Biscuit – 256g
Nutrition Facts: Serving Size About 1/4 Cup Mix (32g), Servings Per Container 8, Amount Per Serving: Calories 110, Calories from Fat 5, Total Fat Og (0% DV), Saturated Fat Og (0% DV), Trans Fat Og, Cholesterol Omg (0% DV), Sodium 150mg (6% DV), Total Carbohydrate 25g (8% DV), Dietary Fiber 1g (4% DV), Sugars Og, Protein 2g, Vitamin A (0% DV), Vitamin C (0% DV), Calcium (0% DV), Iron (2% DV). Percent Daily Values are based on a 2,000 calorie diet
Try this:
For Savory Biscuits:
Add ¼ cup shredded cheese of choice (we like cheddar!) and 2 TBL fresh chives, chopped • Add ½ tsp fresh ground black pepper and a dash of grated nutmeg
Add 3 TBL fresh herbs such as parsley, basil, chives, or rosemary, minced
Substitute 2/3 cup buttermilk, or buttermilk substitute, for milk in recipe
Smother in gluten-free sausage gravy

For Dessert Biscuits:
Add 3 TBL sugar into dough. Bake and top with 1 cup fresh berries and whipped cream of choice.
Add 3 TBL brown sugar, ½ cup minced apples or pears, 1/2 tsp ground cinnamon to dough. Bake and top with ice cream of choice.