Gluten-Free • Allergen-Friendly • Delicious!
Description
Bella Gluten-Free™ Yummy Blueberry Scone Mix is love in a cup. This combo of our 100% allergen free All Purpose Baking Mix, US cultivated blueberries and a little organic cane sugar, creates a simple-to-make, awesome pastry. Great for breakfast, teatime snack or light dessert. Stir up our mix…Share Love! Makes 6-8 Buttery Scones.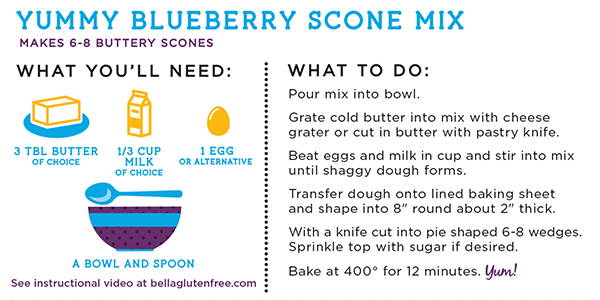 Chef's Tips:
Using a cheese grater to grate your cold butter into small pearl size pieces creates an extra flaky scone. (Placing butter in the freezer for 3-5 minutes makes for easy grating.)
Sprinkle top of dough with 2 tsp sugar in the raw or a mixture of cinnamon sugar for finishing touch.
INGREDIENTS:
Whole Grain Brown Rice Flour, White Rice Flour, Potato Starch, Tapioca Starch, Dried Blueberries, Organic Cane Sugar, Sweet Rice Flour, Cream of Tartar, Xanthan Gum, Baking Soda, Sea Salt.
Blueberry Scone Mix – 258g
Nutrition Facts
Serving Size About 1/4 Cup Mix (32g), Servings Per Container 8, Amount Per Serving: Calories 110, Calories from Fat 5, Total Fat Og (0% DV), Saturated Fat Og (0% DV), Trans Fat Og, Cholesterol Omg(0% DV), Sodium 110mg (5% DV), Total Carbohydrate 26g (9% DV), Dietary Fiber 1g (4% DV), Sugars 6g, Protein 1g, Vitamin A (0% DV), Vitamin C (0% DV), Calcium (0% DV), Iron (2% DV). Percent Daily Values are based on a 2,000 calorie diet.
Try this:
Add 1 cup fresh berries and whipped cream of choice.
Serve warm with lemon curd, butter, jam or the works.