About Us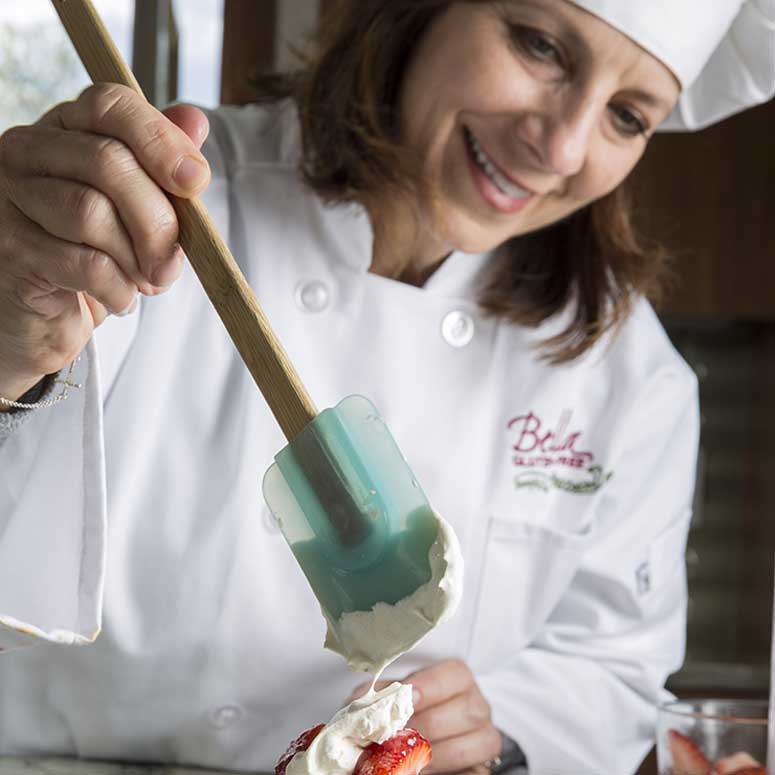 Italians have a saying: "Mangiare bene, bere bene e' vivere bene." To eat well, to drink well, is to live well. That's how we at Bella Gluten-Free like to think, and why we spend hours creating in our kitchens so that we can bring the very best to our customers.

We care A LOT about people! We care that they want or need to eat gluten-free. We care that they want their gluten-free baked goods to not only to taste good, but that they have been produced with integrity. We hold ourselves accountable for the quality of the food that we provide for our consumers and we never settle for second best. After spending years carefully selecting the very best ingredients, we can proudly say our baking mixes are some of the best! We have also made our products certified Non- GMO and Vegan.
We care about our planet, as well. Bella Gluten-Free donates a percentage of our sales to the Grounded Growth Network (www.ourgroundedgrowth.com), supporting our farmers and regenerative agriculture practices. Our donation funds seed cost for cover crop, which decreases reliance on chemicals and pesticides. Support of regenerative agriculture practices helps rebuild the soil, decreases the carbon load, and improves the cycle of water to grow our ingredients. Our partnership with Grounded Growth elevates our commitment to consumers to have the very best, nutrient-dense food - which literally comes from the "ground up". When you buy one of our baking mixes, you give back to generations of farming with purpose. A purpose to preserve the land and the natural production of beautiful food!

We understand the passion for great food and we know the difficulty of trying to eat with allergies and/or intolerances - especially to foods that we love. We started in our kitchens recreating our favorite foods and then made them into delectable gluten-free, allergen free offerings. Lastly, we care about our customers' time. So we took it one step further and made these beautiful gluten-free, allergen-friendly foods very simple and easy to create in their own kitchens. With Bella Gluten-Free mixes, you are only a few ingredients and minutes away from having delicious baked goodies.
With A Big Gluten-Free Appetite and Warm Smiles!
Bella Gluten-Free !
Cento Anni. We hope you live a hundred years.