Gluten-Free • Multigrain • Allergen-Friendly • Delicious!

Bella Gluten-Free™ Rustic Multigrain Dinner Roll Mix combines beautiful texture with nutritious ingredients that make a wholesome bread everyone will love! Full of whole grain flours and sesame and sunflower seeds, our rolls are soft on the inside and crusty on the outside. Stir up our mix…Break Bread with family and friends. Makes 8 Dinner Rolls, 4 Sandwich Rolls, or 1 French Boule.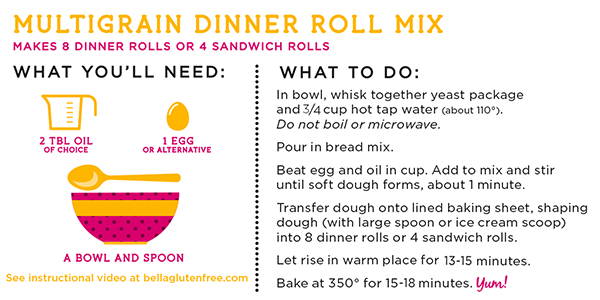 Chef's Tips:
Use an ice cream scoop and add to a lightly greased muffin tin to form perfectly round rustic rolls. Technically bread is not done until it cools and the water in the dough evaporates fully. For crust rolls straight from the oven add 3-5 minutes to your bake cycle.
INGREDIENTS:
Tapioca Starch, Whole Grain Brown Rice Flour, Whole Grain Sorghum Flour, Potato Starch, Flax Seed Meal, Sesame Seeds, Organic Cane Sugar, Sunflower Seeds, Sea Salt, Xanthan Gum, Yeast Packet.
Multigrain Dinner Roll Mix 249g
Nutrition Facts
Serv. Size 1/4 Cup Dry Mix (33g), Servings About 8, Amount Per Serving: Calories 120, Fat Cal. 20, Total Fat 2g (3% DV), Sat. Fat 0g (0% DV), Trans Fat 0g, Cholest. 0mg (0% DV), Sodium 240mg (10% DV), Total Carb. 24g (8% DV), Fiber 2g (8% DV), Sugars 1g, Protein 2g, Vitamin A (0% DV), Vitamin C (0% DV), Calcium (2% DV), Iron (4% DV). Percent Daily Values are based on a 2,000 calorie diet.
Try this:
Baking Variations:
Divide dough into 4 equal parts. Using a large serving spoon, form a football shaped sandwich roll. With wet hands seal the cracks. Score the top with a knife, about ¼ deep, for an artisan touch. Bake for 20-22 minutes.
Make hamburger rolls using 4" cake rounds or large muffin tins. Add toppings of choice. Bake for 15-18 minutes.
Make a perfect rustic Boule (a French style round loaf), by shaping the dough into a half circle or a lightly flattened ball. Bake in a 8" or 9" cake pan. Score the top with a crisscross pattern to make it really French! Bake for 22-25 minutes or until golden brown.
Before Baking:
Sprinkle dehydrated garlic, onions, poppy seeds, sea salt or a combo to the top of the dough and bake as instructed.
Once Baked:
For a classic bruschetta, slice baked roll into thirds. Toast until crisp or medium brown. Add topping such as sundried tomato spread, pesto, fresh grilled veggies, hummus or topping of choice and return to oven to bake, about 10 minutes.