Gluten-Free • Whole Grain • Allergen-Friendly • Delicious!

Description
Bella Gluten-Free™ Gourmet Italian Pizza Crust Mix, created by three Italian chefs, has to be good, or our nonna's would disown us. Made with whole grain flours, its flavor and texture makes a perfect crust for any topping. Make a savory deep dish pizza or a crispy thin NY style pie…it's all in the way you shape it. Stir up our mix…Eat Fun! Makes one 12-14" Pizza Crust.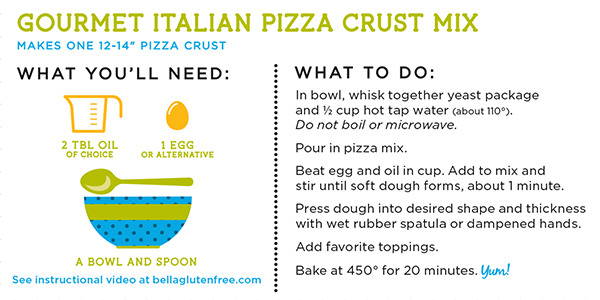 Chef's Tips:
The best way to handle this sticky dough is to dampen hands with water and press the dough from center to edge. Pinch edges to form a crust. Or use the same method with a rubber spatula dipped in water or oil.
INGREDIENTS
Whole Grain Brown Rice Flour, Potato Starch, Whole Grain Sorghum Flour, Tapioca Starch, Xanthan Gum, Organic Cane Sugar, Sea Salt, Yeast Packet.
Italian Pizza Crust – 185g
Nutrition Facts: Serving Size About 3 Tablespoons Dry Mix (23g), Servings Per Container 8, Amount Per Serving: Calories 80, Calories from Fat 5, Total Fat Og (0% DV), Saturated Fat Og (0% DV), Trans Fat Og, Cholesterol Omg (0% DV), Sodium 200mg (8% DV), Total Carbohydrate 18g (6% DV), Dietary Fiber 1g (4% DV), Sugars 1g, Protein 1g, Vitamin A (0% DV), Vitamin C (2% DV), Calcium (0% DV), Iron (2% DV). Percent Daily Values are based on a 2,000 calorie diet
Try this: Baking Variations:
For a higher risen crust, shape dough on parchment lined baking sheet. Let sit in warm area (on stove while oven is heating) and let rise while you are preparing your toppings, about 15 minutes.
Shape dough into focaccia loaf about 1 inch thick. Add garlic, fresh herbs or olive oil and sea salt to top of dough, if desired. • Scoop dough into lightly grease muffin tins and make Italian style rolls. Let rise for 15 minutes and bake for 18 minutes or until golden brown.
For pizza bites, place a small ball of dough, about 1", into a lightly greased mini muffin tins. Press down with thumb. Add 1 tsp sauce and cheese of choice. Bake for 10-12 minutes or until light brown.