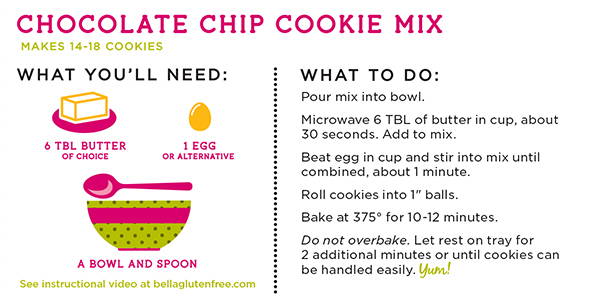 Chef's Tips:
Using a 1 oz ice cream scoop makes your cookies cook evenly, and with all cookies the same size, there will be no fighting over the big ones.
Don't over bake. 10 to 12 minutes is all it takes to bake these cookies correctly. Remove from oven and let sit on the hot tray for an additional 2 minutes, or until they are ready to be picked up and popped into your mouth.
INGREDIENTS
Bella Gluten-Free™ All Purpose Baking Mix (whole grain brown rice flour, white rice flour, potato starch, sweet rice flour, tapioca starch, xanthan gum, sea salt), Organic Cane Sugar, Soy Free Chocolate Chips (sugar, unsweetened chocolate, cocoa butter, vanilla bean seeds), Organic Coconut Sugar, Baking Soda.
Ships as case of 6 mixes, 12.7oz (356g) per unit - $29.95/case
Gluten-Free • Allergen-Friendly • Delicious!


Description
What makes our cookies so special? Bella Gluten-Free™ Chocolate Chip Cookie Mix starts with our 100% allergen-free All Purpose Baking Mix, creating perfect texture. We add rich dextrose-free chocolate chips and organic coconut sugar, a subtle sweetener like brown sugar, with a hint of caramel. (Organic coconut sugar, considered a healthy sugar, contains trace minerals and vitamins and has a lower glycemic impact on blood sugars.) Chewy on the edges and soft in the middle, they won't last long. Make them with the kids, or better yet, let the kids make them for you. Stir up our mix…Bake Smiles. Makes 14-16 Cookies.
Nutrition Facts - Chocolate Chip Cookie Mix 356g
Serv. Size 1 1/2 Tbsp Dry Mix (20g), Servings About 18, Amount Per Serving: Calories 80, Fat Cal. 10, Total Fat 1g (2% DV), Sat. Fat 0.5g (3% DV), Trans Fat 0g, Cholest. 0mg (0% DV), Sodium 70mg (3% DV), Total Carb. 17g (6% DV), Fiber 1g (4% DV), Sugars 9g, Protein 1g, Vitamin A (0% DV), Vitamin C (0% DV), Calcium (0% DV), Iron (2% DV). Percent Daily Values are based on a 2,000 calorie diet.
Try this:
Baking Variaions: Add dough to a lightly greased 8" cake pan and make a cookie bar pie. Bake for 12-15 minutes or until center is lightly set.
Before Baking: Add ¼ cup dried cranberries, cherries or blueberries for an antioxidant boost.
Go nuts. Add 1/2 cup chopped nuts such as pecans, walnuts, hazel nuts, macadamia nuts or almonds and enjoy a little protein with your dessert.
Once Baked: Add a scoop of ice cream (of choice) between two cookies. Roll edges in chocolate chips, nuts, mini m&m's or toppings of choice.