Chef's Tips:
Batter will be thick. Spoon into prepared pan and spread evenly with a rubber spatula.
Baking time varies with each oven and type of pan (when using a metal pan baking time can be slightly less). For gooey chewy consistency bake batter until just set, or a bit jiggly in the middle. Remove from oven and leave in pan. Brownies will be firm up center. For cake-like consistency, bake until center springs to light touch, or until tester comes out with a few crumbs.
Gluten-Free • Allergen-Friendly • Delicious!
Description
Bella Gluten-Free™ Chewy Chocolate Brownie Mix is a perfect balance of our allergen-free All Purpose Baking Mix, organic sugars (coconut and cane), and rich chocolate chips and cocoa powder to ensure perfect chocolatey goodness. Whether you like them ooey gooey or classic cake-like you can have hot brownies in minutes. Stir up our mix…Celebrate Chocolate! Yields (16) 2" brownies per mix.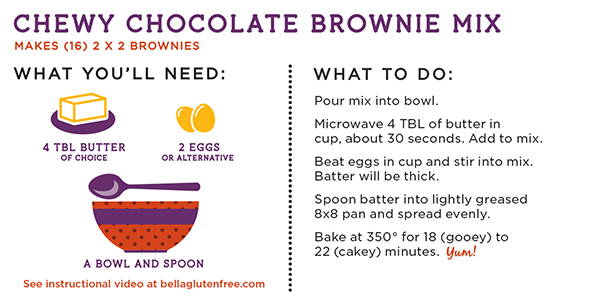 INGREDIENTS: Bella Gluten-Free™ All Purpose Baking Mix (whole grain
brown rice flour, white rice flour, potato starch, sweet rice flour, tapioca
starch, xanthan gum, sea salt), Organic Coconut Sugar, Organic Cane
Sugar, Soy Free Chocolate Chips (sugar, unsweetened chocolate, cocoa
butter, vanilla bean seeds), Cocoa Powder, Baking Soda.
Ships as case of 6 mixes, 10.6oz (297oz) per unit - $29.95/case
Try this:
Baking Variations:
For brownie bites, add batter to 12 lightly greased mini muffin tin. Bake for 6-7 minutes.
For soft centered cakes, add batter to 6 lightly greased muffin tins and bake just until center is lightly set, about 10 minutes. Center will fall when removed from oven creating the soft center. Serve with a fresh fruit garnish and yogurt or cream of choice.
Before Baking:
Stir ½ cup of your favorite nuts into batter. Bake as instructed.
Swirl ¼ cup of softened cream cheese or nut butter (thinned with milk of choice) into mix. Bake as instructed.
Once Baked:
Sprinkle ½ -3/4 tsp coarsely ground sea salt to top of baked brownies still warm from the oven.
Frost with chocolate ganache; pour ¾ cup of scalding coconut milk over ¾ cup chocolate chips. Let sit for one minute or until chips are melted. Stir until well combined. Cool in refrigerator, about 1 hour. Spread ganache evenly over cooled brownies.