Pancetta Herb Gravy Recipe by Bella Gluten Free

Servings: Makes 15 servings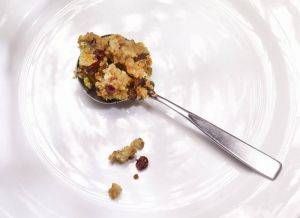 1 TBL butter or olive oil
1/2 cup pancetta or bacon chopped, about 4 slices.
1/4 cup shallots, chopped
3 TBL Bella Gluten-Free All Purpose Baking Mix
2 cups low-salt chicken broth
1 cup pan drippings or chicken broth
 
1 cup apple cider or dry white wine
1 tsp fresh thyme
1 tsp sage, chopped
salt and pepper to taste
Mix it Up
In a medium saucepan over medium heat add 1TBL of butter or oil. Add pancetta or bacon and saute until crisp, about 5 minutes. Add shallots and cook until translucent, about 3 minutes. Whisk in Bella Gluten-Free All Purpose Baking Mix and and saute for 3–5 minutes until the roux is a light brown and well combined.
Whisk in broth, pan drippings, wine or cider and herbs. Bring to gravy to a light boil, whisking frequently.
Lower heat and simmer until gravy reduces to 4 cups, about 10 minutes.
Salt and pepper to taste. Serve warm.
---