French Onion Soup Recipe by Bella Gluten-Free
Make a beautiful healthy soup to celebrate the New Year.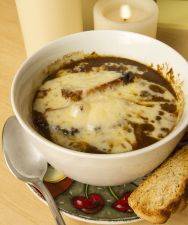 Lightly spray 8 muffin tins. Preheat oven to 375 degrees while dough rises.
Slider Rolls
Prepare one cup of Bella Gluten-Free Rustic Multigrain Dinner Roll Mix. Using an ice cream scoop or large spoon divide dough equally between prepared muffin tins.
Let rise for 12-15 minutes while making soup.
French Onion Soup
Directions:

• In a large heavy bottomed saucepan, heat oil. Add onions and cook covered over low heat, about 15 minutes.
• Stir in salt, sugar, parsley, thyme, bay leaf, and cook uncovered for 30 minutes, or until onions are a golden brown.
• Add flour and stir to combine, cook for about 3 minutes.
• Add warmed broth and wine to vegetables and simmer partially covered for 30 minutes. Salt and pepper to taste.
• Remove bay leaf before serving. Top with multigrain croutons and swiss cheese if desired.
---