Pull Apart Cinnamon Rolls by Bella Gluten-Free
Enjoy these sticky, pull apart cinnamon rolls out of the oven in just 15 minutes.
Servings: Makes 6 large rolls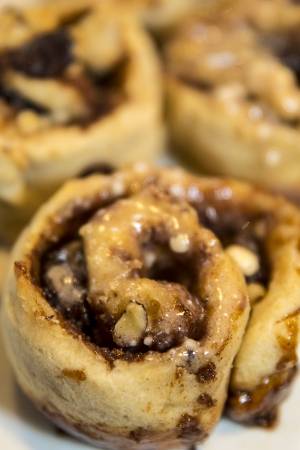 One Bella Gluten-Free Gourmet Italian Pizza Crust Mix
Toppings:
1/4 cup butter, softened (or alternative)
2 tsp cinnamon
1/2 cup coconut sugar, brown sugar or combination of both
1/4 cup chopped walnuts or sunflower seeds (optional)
1/4 cup craisins, raisins or other dried fruit
Spray muffin tin lightly with pan spray. Preheat oven to 350 degrees.
Pull Apart Cinnamon Rolls

Prepare one cup Bella Gluten-Free Gourmet Italian Pizza Crust Mix. Stir until it forms a soft ball. Place dough ball between 2 sheets of sprayed parchment paper. With rolling pin, roll out dough between sprayed parchment to form a 12"x6" rectangle.

In a small bowl, mix together softened butter, cinnamon and sugar. Spread over 12"x6" dough rectangle. Sprinkle with nuts and dried fruits. Starting at the longest edge, roll into a log, pinching seams to seal. Cut into six 2" slices. Place each slice in greased muffin tin.
Bake in oven for 14-16 minutes until golden brown. Cool and frost with your favorite icing...Yum!
---