Potato Pancakes Recipe by Bella Gluten-Free

Top them off with applesauce or jam, meat au jus, or just plain. Bella Gluten-Free All Purpose Baking Mix makes beautiful Latkas every time.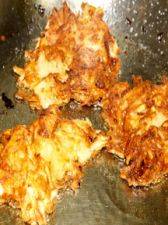 3-4 lg. potatoes, peeled and grated
1 small onion, grated
1 eggs, beaten
1/4-1/2 cup Bella Gluten-Free All Purpose Baking Mix
Salt & pepper to taste
Oil for frying
Mix it Up
Grate potatoes and onions with a cheese grater by hand. You can also use a food processor with a grater attachment. Pat dry with paper towel the grated potatoes to avoid potatoes turning brown.
Add beaten egg and Bella Gluten-Free All Purpose Baking Mix to potato mixture and mix by hand. Season with salt and pepper to taste.
In large skillet, heat oil, about 1/4 inch, until hot and slightly smoking.
Form small patties by hand. If the mixture is too moist add a little bit more (about 1 TBL) All Purpose Baking Mix until patties hold together. Add to patties to pan. Avoid over crowding. Fry until golden brown on both sides, about 3 minutes/side. Lower heat slightly if pancakes are browning too quickly.  
Place pancakes on a paper towel to remove excess oil. Salt lightly when hot. Transfer to a parchment paper lined baking sheet to a warm oven while cooking remaining pancakes.
Serve warm with applesauce, jam, gravy or with dollop of butter. They are great plain too!
---