Mouthwatering Onion Rings by Bella Gluten Free

Sweet onions wrapped in a tender yet crunchy shell is the perfect compliment to meat on the grill.
Servings: Makes 4 servings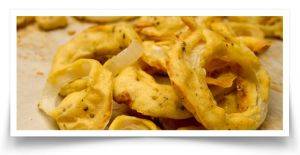 1 cup Bella Gluten-Free All Purpose Baking Mix
1 cup cold water
2 eggs
1/2 tsp sea salt
1/4 tsp onion powder
1/4 tsp garlic powder
pinch of cayenne pepper
1 tsp fresh thyme, chopped (optional)
black pepper to taste

1 large yellow onion such as Vidalia, sliced into rings

 
Preheat oven to 400 degrees and line a baking sheet with parchment paper.
Mix it Up
In a medium bowl, whisk Bella Gluten-Free All Purpose Baking Mix water, and eggs. Add herbs and spices and mix to until smooth.
Slice one large sweet yellow onion crosswise to create rings. Dip each onion ring in batter until coated on all surfaces. Transfer to baking sheet.
Bake for 18-20 minutes until rings are a light brown and crispy.
Salt and pepper lightly while hot. Serve warm.
---