Holiday Mac Nut Pie Recipe by Bella Gluten Free
Add a little melted chocolate and/or whipped cream and move over pecan pie.
Servings: Makes 8 servings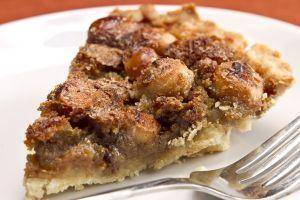 1 Flaky Pie Crust made from Bella Gluten-Free All Purpose Baking Mix
3/4 cup light brown sugar
1/2 cup maple syrup, grade B
3 large eggs
2 tsp vanilla extract
3 TBL melted butter or butter alternative
1/4 tsp salt
2 cups macadamia nuts, lightly toasted
3 TBL cup dark or semi-sweet chocolate, melted (optional)
Mix it Up
Preheat oven to 325 degrees. Lightly spray a 9" pie plate.
Lightly toast mac nuts in a 350 degree oven on a cookie sheet until nuts are a light brown. Prepare pie crust according to pkg instructions. Add to pie plate and crimp the edges of the crust.
Arrange mac nuts in the bottom of the prepared pie crust.
Whisk together by hand in a medium sized bowl: eggs, sugar, maple syrup, melted butter, vanilla, salt, and chocolate (if desired).
Pour filling into pie crust over mac nuts and bake for 45-55 minutes or until edges puff and the center is set. Let cool before serving. Top with whipped cream if desired.
---