Apple Cranberry Pie Recipe by Bella Gluten-Free
This deep dish pie combines autumn fruits and spices with a flaky Bella pie crust.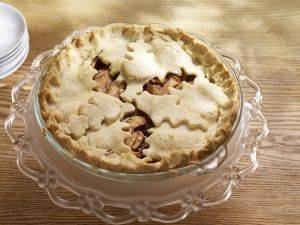 Make a double recipe of Flaky Pie Crust with Bella Gluten-Free All Purpose Baking Mix.

Pie filling:
4 large tart apples such as Granny Smith, McIntosh, Pink Lady, peeled and sliced
1/3 cup coconut or brown sugar
juice from ½ lemon
1 TBL Bella Gluten-Free All Purpose Baking Mix.
½ tsp cinnamon
½ tsp cardamom
½ cup dried cranberries (crasins) or frozen cranberries slightly thaw
1 TBL finishing sugar (optional)
Use on 9" deep dish pie plate.
Mix together all filing ingredients. Set aside to let flavors combine.
Remove dough from refrigerator and roll the larger dough disk between parchment or wax paper to fit the bottom of a 9" pie plate, about 11". Roll the second disk to about 10". Cut shapes from top layer with cookie cutter and set aside. Transfer bottom pastry crust to pie plate, allowing for a 3/4" overhang.
Add filling and transfer second layer of dough to the top. Fold top edge of dough under the bottom and crimp to seal. Add cutouts to the tops of pie and sprinkle with finishing sugar, if desired.
Bake for 45-50 minutes or until crust is a golden brown and apples are easily pieced with a fork.
Chef's Notes:
I have a new love for coconut sugar. Whenever I can I substitute it for brown sugar. It is high in vitamins and has a low glycemix index. In other words, you can eat that second piece of pie.
---