Easy Apple Turnovers Recipe by Bella Gluten-Free
Servings: Makes 6 servings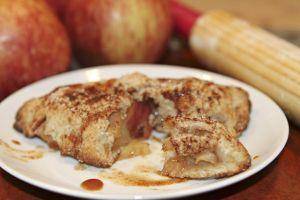 Almond Pastry Crust:
1/2 cup raw almonds, finely ground
1 cup Bella Gluten-Free All Purpose Baking Mix
3 TBL sugar

6 TBL Butter or butter altenative, chilled and chopped

1 large egg, cold

1 TBL, ice water
Apple Filling:
2 apples, peeled corded and chopped into small pieces

3 TBL brown sugar

1/4 cup orange juice

1 tsp cinnamon

1/4 tsp grated nutmeg
Mix it Up: Pastry
Preheat oven to 375 degrees and line a cookie sheet with parchment paper.
In a food processor or spice grinder, pulse almonds until they make a finely ground meal, about 1 minute. Be careful not to over mix or you can turn your almond meal into almond butter. To prevent this from happening, add 1 tsp of granulated sugar to the almonds before grinding.
In a food processor, mix dry ingredients: Bella Gluten-Free All Purpose Baking Mix and sugar and pulse to blend.
Cut in butter just until mixture resembles coarse meal.
Add egg and water, and mix just until dough forms a ball.
Divide dough into 6 pieces. Flatten each dough piece into a 3x4" oval disk, and place between two sheets of dusted parchment or wax paper. Refrigerate for 1/2 to 1 hour.
Mix It Up: Apple Filling
In a small bowl, mix together all ingredients until coated.
Remove pastry from the refrigerator. Divide apple mixture and add to bottom half of dough pieces. Wrap top half over and the crimp edges closed. This dough is very tenter. If dough breaks patch with extra pieces.
Bake for 20-25 minutes until pastry is golden brown. Serve plain or with whipped or ice cream.
---