Pizza Alla Mare...Seafood Pizza Recipe by Bella Gluten Free
You can add cheese or keep it dairy free. It's great either way.
Servings: Makes 8 servings.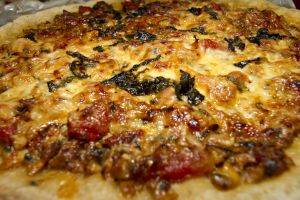 Prepare one package of
Bella Gluten-Free Pizza, Roll & Focaccia Mix
1/4 cup olive oil
1/4 cup shallots, minced
3 cloves garlic, chopped
1 8 oz. can minced clams, juice reserved
2 TBL flat-leaf parsley, chopped
2–3 plum tomatoes, chopped
1 TBL fresh lemon juice
salt and pepper
2 TBL capers, drained (optional)
8 oz. mozzarella cheese (optional)
Parmesan cheese (optional)
red pepper flakes (optional)
Mix It Up
• Preheat oven to 425-450 degrees, and line a baking sheet with parchment paper.
• Prepare Bella Gluten-Free Pizza, Roll & Focaccia Mix as directed.If making one pizza freeze half the dough for another time. Transfer dough to baking sheet and shape with in rectangle or round shape about 1/4–1/2" inch thick for pizza. Place covered in a warm draft-free area, or uncovered in a warming oven, and let rise 20 minutes.
• In sauté pan, heat olive oil. Add shallots and sauté, about 2 minutes. Add garlic and cook until garlic just begins to color, about 1 minute. Do not let garlic get too brown or it will make your sauce bitter.
• Add minced clams and juice from the can, parsley, tomatoes and lemon juice. Salt and pepper to taste. Simmer on medium low heat for 15 minutes or until sauce is reduced by half.
• Add clam sauce to the prepared focaccia, and top with mozzarella cheese or cheese alternative, if desired. If making a dairy free pizza, add a little sea salt to the top of the pizza for that increase flavor.

• Bake 20–25 minutes or until crust is a golden brown. Garnish with Parmesan cheese and red pepper flakes if desired. Makes one 14" pizza.