Mushroom-Caramelised Onion Pizza Recipe by Bella Gluten-Free
Servings: Makes 8 servings.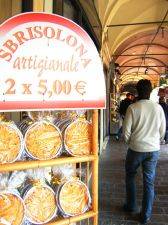 Add to one Bella Gluten-Free Pizza Dough.
1/4 cup olive oil
2 cloves garlic, chopped
1/2 cup sweet yellow onion, sliced
1/4 lb. sliced wild mushrooms such as porcini, cremini, shitake, or oyster
1/4 tsp coarse sea salt
pepper to taste
2 TBL balsamic vinegar
1 tsp sugar
2 TBL fresh herbs, such as basil and oregano
Mix It Up
Preheat oven to 400 degrees, and line a baking sheet with parchment paper or lightly grease a pizza pan.
Prepare Bella Gluten-Free Pizza Dough. Divide dough in half and freeze for another time or prepare another pizza crust, focaccia or 9-12 dinner rolls. Transfer dough to baking sheet and shape and let rise according to instructions.
In a large skillet, add oil, garlic and onion and cook until translucent, about 3 minutes. Add mushrooms, salt and pepper and sauté until mushrooms start to separate and turn a light brown, about 3 minutes. Add balsamic vinegar and sugar and caramelize the liquid, reducing it by 1/3, about 3–5 minutes.
Add mushroom and onion topping to risen pizza crust. Sprinkle with coarse sea salt and fresh herbs.
Bake 20–25 minutes until crust is golden brown or to desired doneness.
Serves 4