Caramelized Onion, Bacon and Fig Pizza Recipe by Bella Gluten-Free
Servings: Makes 8 servings.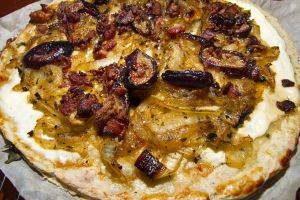 1 Pkg  Bella Gluten-Free Pizza, Rolls, and Focaccia Mix
4 slices bacon, cooked crisp and chopped
2 medium yellow onions, sliced  
3 TBL honey
2 tsp fresh thyme
1/4 cup white wine
12 oz or 3/4 cup plain greek yogurt or yogurt alternative
5-6 fresh figs, halved (optional)
salt and pepper to taste
Mix it Up
• Prepare one package of Bella Gluten-Free Pizza, Rolls, and Focaccia Mix (Freeze half the dough in a zip lock or double the toppings and make two pizzas.) Set prepared dough aside to rise.

• In medium skillet, fry bacon until crisp. Remove to paper towel to drain and chop when cool. Leave 1 TBL of bacon drippings in skillet. Discard the rest.

• Whisk in honey, wine and thyme into skillet. Heat mixture and add onions and salt and pepper. Saute over medium heat stirring frequently until onions turn a golden brown and begin to caramelize, about 10 minutes.

• Add yogurt to top of risen pizza. Arrange caramelized onions evenly to top of dough. Add chopped bacon and figs.

• Bake at 425 degrees for 20-25 minutes or until crust is done to your heart's desire. In other words, as crispy as you like it.