Southern Fried Chicken by Bella Gluten-Free
In just a few minutes you be eating tender, juicy, crispy fried chicken that even my southern friends approve of. Add some Bella Gluten-Free waffles and your southern meal will be complete.
Servings: Makes 8-10 servings.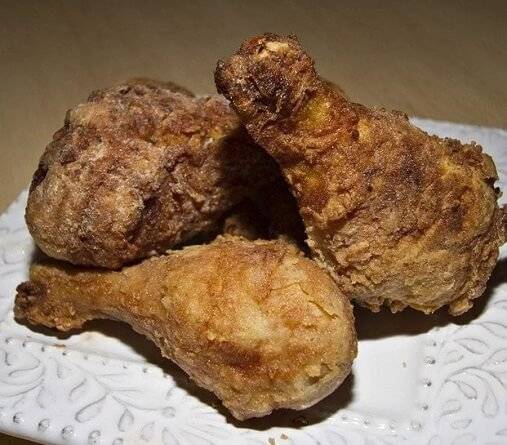 1 whole chicken cut up into 8- 10 pieces
1 TBL Kosher salt
2 Tsp pepper, ground
1/4 tsp ground cinnamon
1 tsp paprika
1/2 tsp cayenne pepper
1 tsp garlic powder
1 cup buttermilk or milk or milk alternative with 1 TBL lemon juice or 1 tsp vinegar added
2 eggs
2 cups Bella Gluten-Free All Purpose Baking Mix
Oil for frying such as Spectrum Organic Shortening, Coconut Oil or Peanut Oil
Mix it Up
Rinse and pat dry chicken pieces. Remove back and wing tips and discard.
Whisk together salt, pepper, cinnamon, cayenne, paprika and garlic powder in a medium bowl.
Roll chicken pieces in dry rub and coat throughly. Place in large bowl, cover and refrigerate for at least 2 hours. Can be done overnight.
Allow meat to return to room temperature, about 1/2 hour. In small bowl, whisk together milk and eggs. In another bowl, add Bella Gluten-Free All Purpose Baking Mix.
Add a shortening or oil to a large heavy bottomed skillet or deep wok, about 2 " deep. Let heat until temperature reaches 350 degrees or oil is smoking slightly. Dip chicken in milk/egg mixture and then dredge it in the Bella Gluten-Free All Purpose Baking Mix. Add to hot oil in batches. Do not overcrowd the pan. Cook rotating the chicken every 2 minutes until it is golden brown. Cook breasts, thighs and legs take about 10 minutes and wings, about 8 minutes. Transfer to lined baking sheet and let sit for 5-10 minutes before serving.
---