Potato and Spinach Gnocchi Recipe by Bella Gluten-Free

Top these delicious morsels with your favorite tomato sauce or a brown butter sage sauce and you have a delicious GF dinner in minutes.
Servings: Makes 6 servings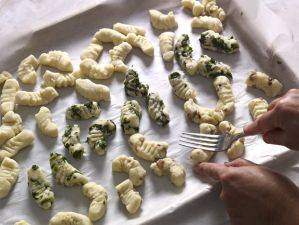 1 1/2 lb. baking potatoes (about 4 medium)
1 cup Bella Gluten-Free All Purpose Baking Mix
1 egg or egg substitute
3/4 tsp salt
1/4 tsp fresh nutmeg (optional)
1/2 lb. fresh spinach, chopped and lightly steamed  
Black pepper to taste
Mix it Up
In a large pan, boil potatoes with skin on until they are easily pierced with a fork. Drain and peel.
Put the potatoes through a food mill, or grate them on the large side of a cheese grater onto a wooden board or clean work surface.
Add Bella Gluten-Free All Purpose Baking Mix and knead dough, forming a mound with a well in the center, like the shape of a bird's nest.
Break egg in the center and add salt.. Knead dough until well incorporated. Pat dry chopped spinach and knead gently into dough just until it is mixed throughout. Dough should be smooth and fairly easy to handle. If dough is too sticky, dust your board lightly with Bella Gluten-Free All Purpose Baking Mix only adding enough to handle dough.
Divide dough into 4 parts. Roll each part into a long, sausage-like shape, about 1 1/2" in diameter. With a knife or pastry cutter, cut each long roll into individual dumplings about 1" each.Set a fork face down on the end of your board. Gently roll each of your gnocchi over the back of the fork prongs.
Bring a large pot of salted water to boil. Drop in a few gnocchi at a time, only enough to fill the bottom of the pot in a single layer. Gnocchi will soon rise to the surface of the water. Cook for additional 2-3 minutes. Remove gnocchi with a slotted spoon to a serving platter.
Cover with your favorite tomato sauce or a Brown Butter and Sage Sauce (Brown 6 TBL butter, and 1/4 fresh torn sage leaves, about 3 minute. Garnish with Parmesan cheese if desired.)
Chef's Notes
Potatoes vary in size and depending upon what kind you use you could end up with more than 1 ½ pounds. If your dough is too sticky to handle after you have added the egg, add a little more Bella Gluten-Free All Purpose Baking Mix. The dough should feel a little bit like thick mash potatoes and stay together when rolling.
---