Pancetta, Cranberry and Pecan Stuffing Recipe by Bella Gluten-Free
These multigrain dinner rolls make a great stuffing with their crusty outsides and soft insides.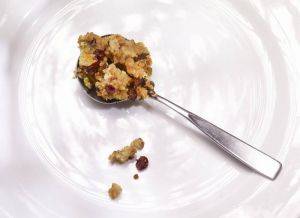 TWO Bella Gluten-Free Rustic Multigrain Dinner Roll Mix
2 TBL oil, olive or vegetable
2 ½ cups yellow onion, chopped
4 stalks celery, chopped
3 TBL fresh sage, chopped, or 2 tsp dry
1 TBL fresh thyme, chopped, or 1 tsp dry
1 ¼ cups dried cranberries
3/4 cup pecans, chopped
8 slices of pancetta or bacon, cooked well and crumbled
1 cup turkey broth or chicken broth
1 tsp salt
More pepper to taste if desired
1 egg, beaten
Pan drippings to finish
Dinner Rolls
Prepare TWO cups Bella Gluten-Free Rustic Multigrain Dinner Roll Mix. Bake for 18 minutes at 375 degrees. Can be done one day ahead.
Stuffing
In a large stock pot, over high heat cook pancetta or bacon until crisp. Transfer to cutting board and chop. Remove all but 1 TBL of drippings from stock pan. Add 1 TBL oil and reheat. Add onions and celery and sauté until vegetables are translucent, about 5 minutes. Add herbs, cranberries, pecans and pancetta or bacon and cook together, about 3 minutes.
Lower heat. Break rolls into bite size chuncks. Transfer to stock pot. Add salt and broth stirring gently until all ingredients are combined. Heat on low stirring occasionally to prevent bottom from sticking, about 3-5 minutes. Remove from heat and let cool.
Add the beaten egg to the cooled stuffing and stir until incorporated. Transfer to lightly greased casserole dish and bake for 45 minutes covered and 15 minutes uncovered, basting with turkey drippings several times during the baking process. Serve warm with turkey. Can be made 1-2 days ahead and reheated before serving. YUM!
---