Mini Hamburger Sliders by Bella Gluten-Free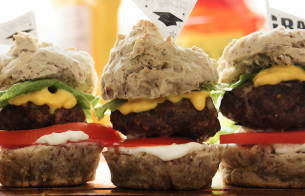 1 x's Rustic Multigrain Dinner Roll Mix 
1/2 pound lean ground beef
2 teaspoons Montreal Steak seasoning mix
1 roma tomato, sliced
Lettuce to serve
Mayonnaise to serve, if desired
Mustard to serve, if desired
Ketchup to serve, if desired
Prepare the rolls as directed on the cup package. Lightly grease a muffin tin with cooking spray or oil and scoop 6 portions of the roll batter into the prepared muffin tins, distributing as evenly as possible. *Top Tip -We find using the silicon muffin tins very helpful for this recipe. *

Follow the directions on package and allow the rolls to proof for instructed time before baking off. Allow to cool in the muffin tins.

While the rolls are baking make the mini burger patties. In a medium bowl combine the ground beef with the seasoning mix and with clean hands combine well.

Divide the meat mixture up into 6 portions and like you would when making a meatball, make 6 small burger patties and set aside.

Grill on high heat to your preferred doneness and set aside.

Once the rolls have cooled, slice them in half using a bread knife.

Spread a bit of mayonnaise on the bottom half of the bun, place the burger patty on top. Next top with lettuce, tomato, ketchup and mustard if desired.

Place the top of each bun on top and skewer if desired to hold all together. Serve immediately.
---