Meatball Sliders Recipe by Bella Gluten-Free
While the dinner rolls rise, prepare your meatballs and classic Italian pan sauce.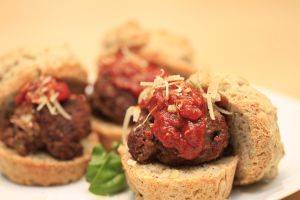 1 Bella Gluten-Free Rustic Dinner Roll Mix
Meatballs and Sauce
1 lb ground meat: such as beef, buffalo, or pork or a combination.
1/2 cup gluten-free breadcrumbs ( about one roll)
1 clove garlic, minced
1/4 onion, minced
6 TBL grated pecorino or parmesan cheese or alternative
1 large egg
3 TBL parsley, chopped
1 tsp salt
1/2 tsp pepper
olive oil for frying
Lightly spray 8 muffin tins. Preheat oven to 375 degrees while dough rises.
Slider Rolls
Prepare one cup of Bella Gluten-Free Rustic Multigrain Dinner Roll Mix. Using an ice cream scoop or large spoon divide dough equally between prepared muffin tins.
Let rise for 12-15 minutes while making meatballs and sauce.
Meatballs and Pan Sauce
In a small bowl, mix meat and remaining ingredients together until combined. Gently, roll into 2" balls. Fry on medium heat, until brown on all sides and firm to touch. Remove from pan saving pan juices. Add one 14.5 ounce can of crushed tomatoes or 1 cup of your favorite tomato sauce. Salt and pepper to taste.
Bring to simmer scraping the browned bit into the sauce, about 15 minutes. Remove rolls from the oven. Slice and add one or two meatballs. Top with pan sauce. Serve with parmesan cheese if desired.
---