Creamy Spinach Dip in Rustic Multigrain Boule Recipe by Bella Gluten-Free
Get ready to host your hungry group with this crowd pleasing appetizer.
Servings: Makes (1) 6" Round Boule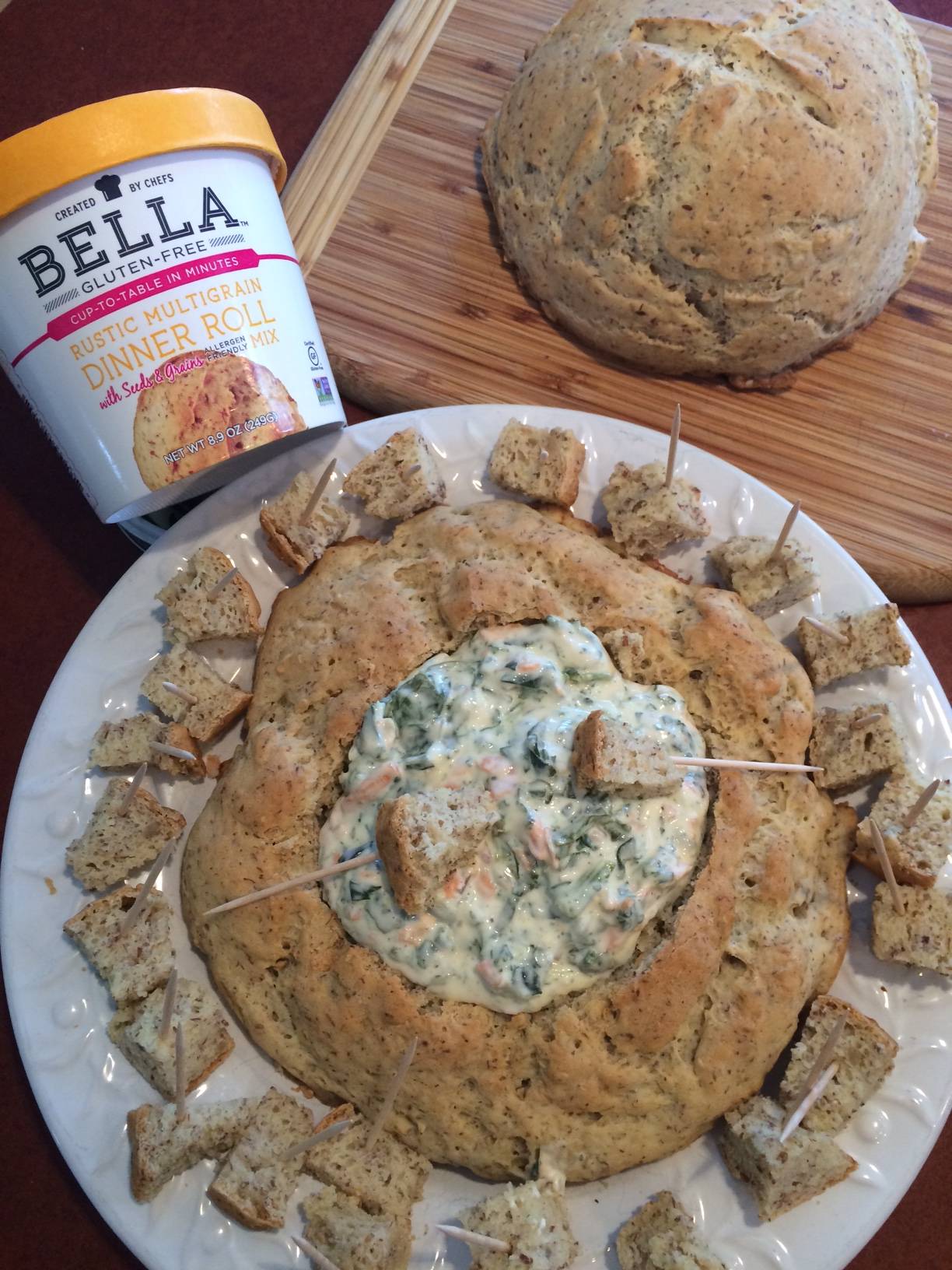 One Bella Gluten-Free Rustic Multigrain Dinner Roll Cup-to-Table Mix
 
Creamy Spinach Dip:
1 10 ounce package frozen chopped spinach
1 cup plain coconut yogurt
1 cup mayonnaise (sub egg-free mayo for vegan alternative)
1/2 cup shredded carrots
2 TBL minced shallots
1 clove garlic, minced
3/4 tsp fine sea salt
1/4 tsp black pepper
1/8 tsp cayenne pepper
Prepare a 6" cake pan with cooking spray.
Prepare one Bella Gluten-Free Rustic Multigrain Dinner Roll Cup-to-Table Mix according to package instructions. Shape dough into one rounded ball, place in cake pan and slightly flatten dough top. Using a knife, score dough top with a crisscross pattern to allow steam to escape. Place in a warm area to rise for 13-15 minutes. Bake at 375 degrees for 22-25 minutes or until bread is golden brown and sounds hollow when you knock on loaf bottom. Remove multigrain Boule from pan and place on wire rack to cool.
While Boule is baking, prepare Creamy Spinach Dip. Place chopped spinach in colander to thaw and drain. Press any access water out. In a separate bowl, mix yogurt, mayonnaise, minced shallots, garlic and spices until evenly incorporated. Stir in shredded carrots and drained spinach.  

Slice a round circle into the top of the cooled multigrain Boule. Remove disk of bread and hollow out the remaining loaf to make room for the dip, being careful to leave bread along the bottom and sides of Boule. Slice removed bread into cubes for dipping. Fill the hollowed out Boule with Creamy Spinach Dip and serve with cubed bread and vegetable sticks. Tear additional sides of Boule as dip is consumed.
---