Chili Relleno Recipe by Bella Gluten-Free
Our mix makes a light crispy batter that is great for vegetables, fried chicken or fish.
Servings: Makes 6 servings.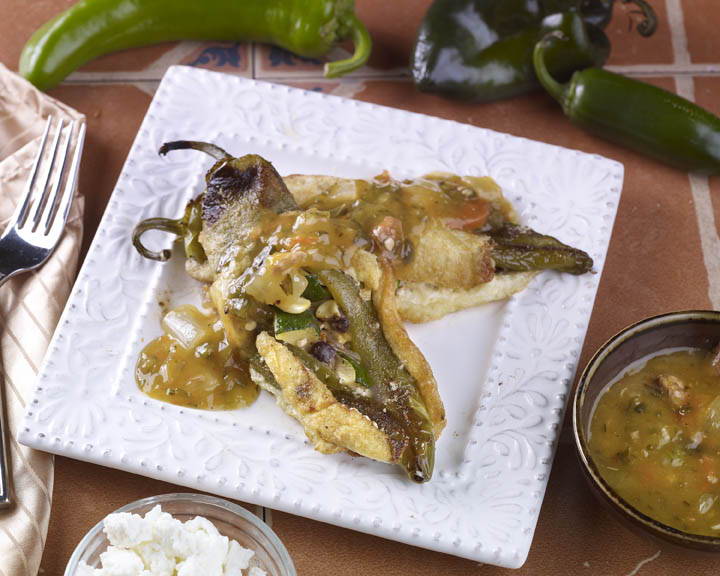 6 chili peppers, roasted and peeled such as Pasilla or Anaheim
1 small zucchini, diced
½ yellow onion, chopped
2 cloves garlic, crushed
1/2 tsp ground cumin
½ tsp chili powder
salt and pepper to taste
1 cup shredded cheese such as sharp cheddar or monterey jack or pepper jack
olive oil for frying
For batter:
1/2 cup Bella Gluten-Free All Purpose Baking Mix.
2 large eggs
3/4 cup water
1/4 tsp. salt
Mix It Up
1. Roast Pepper. Wipe the peppers with olive oil and place on a cookie sheet under the broiler in the oven. Turn pepper over every few minutes until the skin is lightly blistered. When done, remove peppers from oven and place in a small paper bag or bowl covered with plastic wrap to sweat and cool. Set aside.
2. In a medium skillet, add onions to hot oil and sauté until translucent, about 3 minutes. Add garlic and spices and sauté for 2 minutes. Add zucchini sauté until it takes on color, about 5 minutes. Salt and pepper to taste.
3. In a medium bowls, add Bella Gluten Free All Purpose Baking Mix, eggs, water and salt. Mix until combined. If batter is too thick add a water, a little at a time. If too thin, add more All Purpose Baking Mix. Batter should be thick enough to coat.
6. Peel the translucent skin off the cooled pepper. Make a 3-4 inch slit in the pepper keeping the stem in tack. You can remove the seeds or include the seeds if you like a hotter taste. ( seeds increase the heat).
7. Stuff peppers equally with vegetable mixture and cheese.
8. In a heavy skillet, warm oil over medium heat until smoking slightly. Spoon in egg batter in the shape of a pepper. Place stuffed pepper on top of batter and cook over medium heat for five minutes.Spoon more batter on top of pepper and flip over. Cook for another 3-5 minutes until rellenos are a light golden brown. Serve with your favorite green chili sauce.
---