Chicken Sausage Gumbo Recipe by Bella Gluten Free


Add a simple homemade chicken stock, lots of veggies, chicken, sausage or shrimp for an authentic Louisana gumbo.
Servings: Makes 15 servings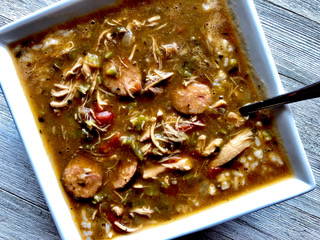 1 2-3 lb roasting or fryer chicken
1 lb spicy sausage such as Andouille, or Italian hot, divided
1/2 lb large shrimp, shelled and deveined
6 cups cold water
1 medium onion, rough chopped
3 stems celery, rough chopped
1/2 TBL coarse sea salt
1 tsp cayenne pepper
1 Bay leaf
Roux:
1/2 cup plus 2 TBL Bella Gluten-Free All Purpose Baking Mix
3/4 cup vegetable oil such as grape seed or canola
2 cups onions, chopped
1 cup celery, chopped
1 cup green pepper, chopped
1/4 lb sausage, chopped and skin removed
1/2 tsp cayenne pepper
Garnish
3 TBL fresh parsley, stemmed and chopped
3 TBL chopped chives or scallions
salt and pepper to taste
Mix it Up
Add water, chicken. rough cut veggies, salt. cayenne, and bay leaf to stock pot. Bring to boil. Turn heat down to simmer uncovered for 1 -1 1/2 hours or until chicken is falling off the bone. Remove chicken to cutting board and strain broth. Set aside.
In a heavy bottom saucepan whisk together oil and Bella Gluten-Free All Purpose Baking Mix.
Simmer over medium heat stirring often until roux takes on a chocolate brown hue, about 20 minutes. Add onions, celery, green peppers and sausage. Cook until veggies are soft, about 10 minutes.
Stir in strained chicken stock and simmer until stew thickens, about 1 hour.
In the meantime, remove chicken from the bone and discard skin. Cut remaining sausage into bite size pieces. Add to roux and stock. Cook to combine flavors, about 15 minutes. Add shrimp and cook until pink, about 5 minutes.
Season to taste with salt, pepper and cayenne.
Serve warm over rice and top with parsley and chopped onions if desired.
Chef's Notes
This seems like a long process but the end result is well worth it. Most of the time you are occasionally stirring shimmering pots. The only active time is when you need to watch your roux turn that chocolate brown. Double the recipe and freeze your leftovers. It only get better with time.
---