Chicken Pot Pie Recipe by Bella Gluten-Free
This recipe has a hearty winter root vegetable theme but feel free to create whatever strikes your fancy. With your favorite stew nestled in a tender crust, made with Bella Gluten-Free All Purpose Baking Mix, you simply can't go wrong.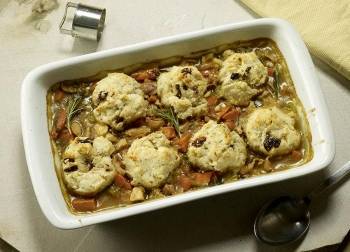 Make a double batch of Bella Gluten-Free Savory Pastry Crust (omit sugar)
3 cups Vegetable Broth
1 small white onion
2 cloves of minced garlic
1 whole chicken or small turkey breast, chopped
2 large carrots, peeled and julienne
2 stalks of celery, chopped
2 parsnips, peeled and chopped
1 sweet potato, peeled and chopped
1/2 cup frozen or fresh baby peas
1 cup heavy cream or soy cream (optional)
2 TBL Olive oil
1 TBL Butter
Salt and Pepper
1 TBL Thyme, minced
2 bay leaves
1 tsp Sage
3 TBL Potato Starch
Preheat oven to 400 degrees
In a medium sauce pan, cover bottom with olive oil and butter combo and simmer over medium heat.
When oil is hot, add onion and saute until translucent. Add garlic and simmer for 3 minutes.
Add chopped meat (if desired) and saute until brown, about 5-7 minutes.
Add carrots, parsnips and celery and saute for 5 minutes until vegetables are very lightly caramelized or light brown in color.
Add broth, sweet potato, peas, salt, pepper, minced thyme, sage and whole bay leaves. Simmer for 30 minutes uncovered reducing liquid by 1/3 and veggies are al dente. Adjust flavors with salt, pepper and herbs. Remove bay leaves before continuing.
Add 3 TBL of Potato Starch to 3 TBL water. Stir. Mixture should be as thick as you like the filling to be. Set aside.
Add 1 cup of heavy cream or milk alternative (if desired) and simmer for 3 minutes. Add potato starch thickener and simmer for 3 minutes or until soup has visibly thickened. Remove from heat. Pour into a 9"x13" glass baking or casserole dish.
Roll out chilled dough between two pieces of wax or parchment paper to a slightly larger size than your baking pan. Transfer dough from wax paper to top of pot pie mixture. Fold edges to form a scalloped crust.
Bake for 30- 35 minutes until crust is golden brown.
---