Soft Center Cakes by Bella Gluten-Free
A quick dessert—you can whip it up in a pinch—this scrumptious cake makes a perfect Valentine's Day dessert.  
Servings: Makes 6- 8 servings.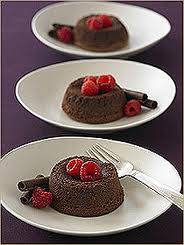 Preheat oven to 350 degrees. Lightly grease 8 muffin tin.

• Prepare one Bella Gluten-Free Chewy Chocolate Brownie Mix 

• Divide equally between muffin tins. This batter will fill 8 spaces of the muffin tin.

• Bake only until sides are set and middle is slightly loose and glossy, about 10 minutes.

• Let cool for 3 minutes. Remove cakes by loosening sides with a knife. Invert onto a dessert plate. Sprinkle with confectioner's sugar or sweetened cocoa. Garnish with raspberries and yogurt if desired.
---