Orange Cardamom Teacake Recipe by Bella Gluten-Free
Serve this cake with a simple and delicious homemade lemon curd and you will have your guest eat out of your hands.
Servings: Makes 12 servings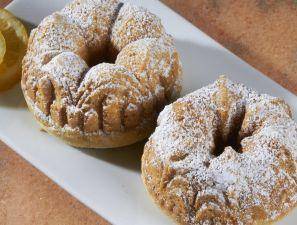 2 ½ cups Bella Gluten-Free All Purpose Baking Mix
½ cup almond meal, finely ground (omit if nut-free)
1 TBL baking powder
2 ½ tsp cardamom, ground
2 sticks butter or butter alternative
1 cup granulated sugar
3 eggs, separated or egg substitute (do not separate when using substitute)
1 tsp vanilla
1 tsp orange extract
1 tsp orange flower water (optional)
2 TBL orange peel

1 cup milk, warm or milk alternative
  Lemon Curd
4 yolks
½ cup sugar
2 lemons, zested and juiced
4 TBL unsalted butter or butter alternative
Preheat oven for to 375 degrees. Prepare two 8 " round cake pans or 12 mini-bundt pans with GF cooking spray.
Teacake
Mix first six dry ingredients together in a large bowl.
In Kitchen Aid or with a hand mixer, combine butter and sugar and mix for 5-7 minutes.
Add egg yolks, vanilla and orange extract, and orange zest and orange flower water and stir until combined. Add warm milk and stir just until blended.
In medium size bowl, whip egg whites until they form soft peaks. Fold egg whites into batter.
Pour batter in prepared pan. Bake for 28-30 minutes for 8" rounds or 22-25 minutes for mini bundts or until center is set .
Lemon Curd
In small saucepan, mix yolks and sugar. Whisk in lemon juice and zest. Add butter chunks and warm over medium heat stirring constantly until curd thicken. Do not let the sauce boil. Place in bowl and let cool. Refrigerate until ready for use.
---