Easter Bunny Cupcakes by Bella Gluten-Free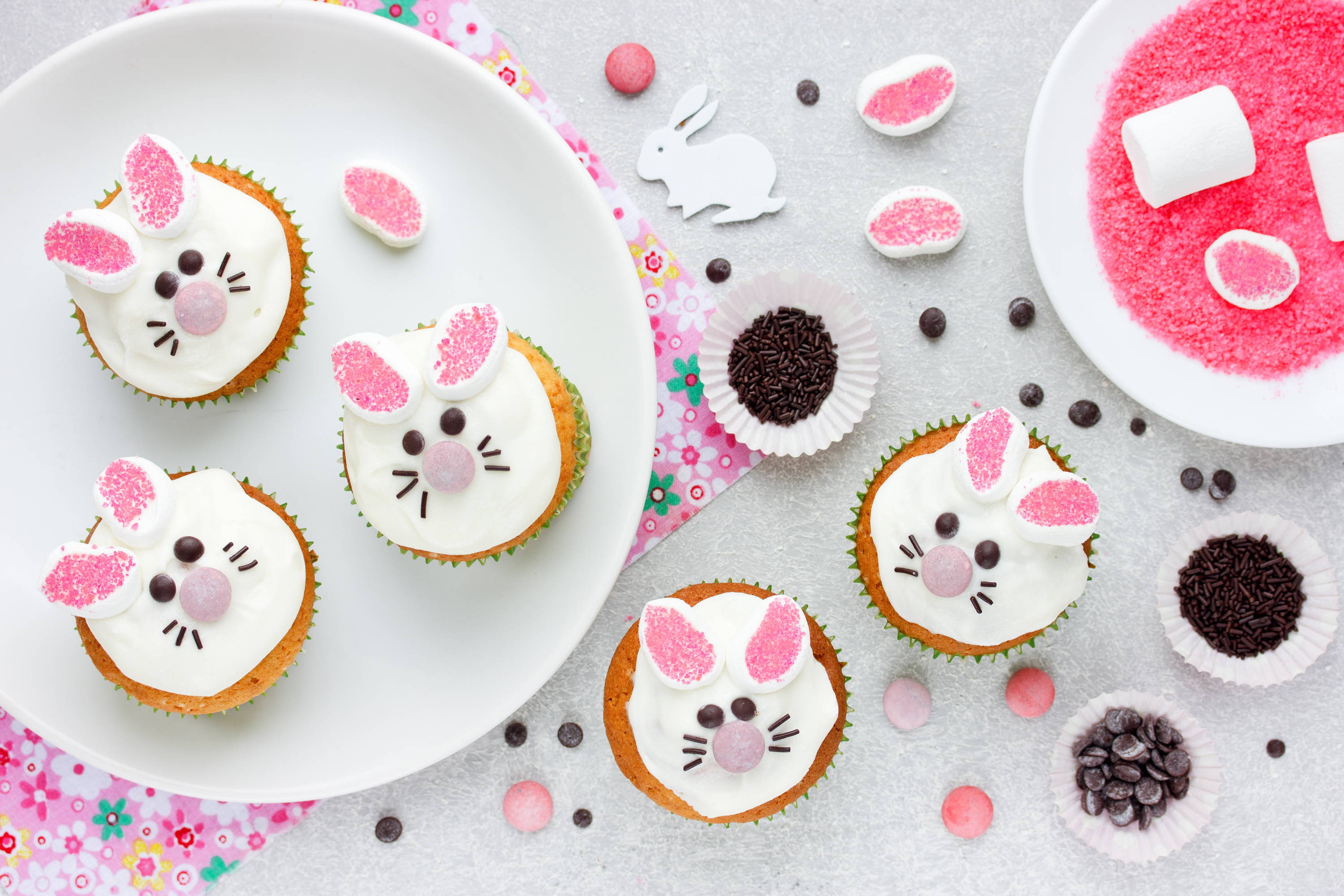 2 1/2 cups Bella Gluten-Free All Purpose Baking Mix
1 1/2 cups granulated sugar
2 teaspoons baking powder
1/2 teaspoon baking soda
1/2 teaspoon fine sea salt
3 large eggs, room temperature
3/4 cup avocado oil (or vegetable oil)
1 tablespoon vanilla extract
1 15 oz. container light sour cream*
For Buttercream Frosting
3 cups powdered sugar
1 cup butter, room temperature
1 teaspoon vanilla extract
1 to 2 tablespoons heavy cream
Preheat oven to 350 degrees and line 2 12-cup muffin tins with paper liners or spray with non-stick spray.
In a large bowl, whisk together the flour, sugar, baking powder, baking soda, and salt. Set aside.
In a separate medium bowl, whisk together the eggs, oil, and vanilla. Whisk in the sour cream until combined.
Pour the wet ingredients into the dry ingredients and stir until the dry ingredients are completely incorporated.
Divide the batter evenly between the 24 cups, filling each no more than 2/3 of the way full. Bake at 350 degrees for 18-22 minutes or until a tester comes out clean or the cupcakes springs back when lightly touched in the center.
Cool cupcakes completely on a cooling rack before frosting.
Notes
*For dairy free, use 1 3/4 cups plain or vanilla dairy-free yogurt plus 1 1/2 tablespoons white vinegar.
If you want vanilla bean flecks in your cupcakes, use 1 1/2 teaspoons vanilla extract + 1 1/2 teaspoons vanilla bean paste.
For frosting
Cream the butter and sugar. Place them in a medium bowl and use a mixer to cream the butter and sugar until the mixture becomes light and fluffy, about two minutes. Scrape down the sides of the bowl every once in a while to make sure all the butter and sugar get mixed in.
Mix in the vanilla and cream. Add the vanilla and cream to the bowl and mix them in thoroughly with your electric mixer.
Beat the mixture for three minutes. This will help you achieve the right light, fluffy, spreadable texture you want for your cupcake frosting. Keep beating until the frosting is slightly stiff.
Frost your cupcakes. Buttercream frosting pairs wonderfully with any type of cake flavor. You can spread it on with a knife or pipe it on in swirls, and it will hold its shape until you're ready to eat the cupcakes.

Make sure you wait until the cupcakes are completely cool before you frost them; otherwise, the frosting will melt and slide off.
Store extra frosting in the refrigerator for up to three days.
To Decorate your Bunnies:
Pink Sprinkles, Marshmallows (snip the marshmallows in half and shape them, dip the sticky mallow side into the sprinkles, or just sprinkle them with fingers for a little more control), Eyes: tiny brown M&M's, Nose: large pink M&M's, Whiskers: chocolate sprinkles
---