Drop Biscuit Peach Cobbler Recipe by Bella Gluten-Free
If peaches are not your favorite, choose another fresh seasonal fruit and enjoy a perfect summer dessert in just minutes!
Servings: Makes 8 servings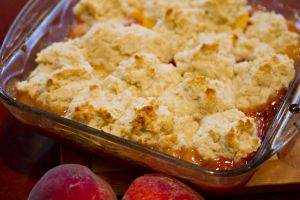 1 1/4 cup Bella Gluten-Free All Purpose Baking Mix
1 1/4 tsp baking powder
3 TBL sugar or honey
5 TBL unsalted butter or butter alternative, chopped and chilled
1/2 cup plain yogurt or yogurt alternative
2 lbs fresh peaches, about 5-6 medium size, sliced
1 lemon, zested and juice from 1/2 lemon
1/2 - 3/4 cup sugar (sweet ripe peaches need less sugar)
Preheat oven to 350 degrees. Lightly spray a 9x9" baking dish.
Add Bella Gluten-Free All Purpose Baking Mix baking powder and sugar to food processor. Blend until combined, about 1 minute.
Add chilled butter and pulse just until dough resembles a corse meal. Add yogurt and mix just until dough forms a ball. about 1 minute. Don't over mix to keep biscuits light.
In medium bowl, combine peaches, sugar, zest and juice and toss lightly to coat. Add fruit to prepared baking dish. Top with walnut size balls of dough. Bake in oven for 25-30 minutes until biscuits are light brown. Serve warm with ice cream or sorbet if desired.
---