Crepes, Crepes, Crepes...Gluten-Free Recipe
Marie's Crepes may be the most versatile recipe in a gluten-free diet since crepes are an excellent alternative to sandwich bread and make great desserts and even light pasta.
Servings: Makes 8 servings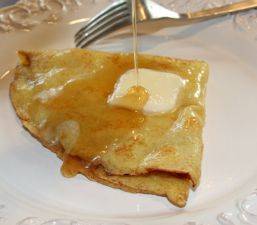 1/2 cup BELLA GLUTEN-FREE ALL PURPOSE BAKING MIX

1 TBL brown sugar

Pinch of salt

4 large eggs

1 cup milk or milk alternative

2 TBL butter, melted or butter alternative

1 tsp gluten-free vanilla
      Mix It Up
In a medium bowl, mix dry ingredients: BELLA GLUTEN-FREE ALL PURPOSE MIX, brown sugar and salt.
In another bowl, mix eggs, milk and vanilla. In a 12 " crepe pan, melt butter and add to egg mixture.
Whisk in egg mixture into dry until you have a smooth and silky texture.
In a hot, lightly greased crepe pan or 12" non-stick fry pan, pour just enough batter to cover the bottom of the pan (about 1/4 cup) and swirl until batter reaches the edge of the pan. Cook until the edges start to pull away from sides and middle begins to firm, about 1 minute. Flip with a spatula and cook on other side, about 1 minute. Slide off onto plate and repeat.
Stuff with filling, and roll into tube or triangle shapes.
      Marie's Crepe Variations
      Sandwich Crepes
Melt a slice of cheese and add ham or turkey to a crepe with a cream Dijon mustard, a curry mayo, or a condiment of your choice for a delicious lunch alternative. For a vegetarian sandwich, I like to add avocado, tomatoes, red onion and cream cheese. My daughters love a warm peanut butter and jelly crepe.
    Crêpe Suzette
Prepare an orange butter by adding 1/4 cup sugar to the zest of one orange. Cream sugar mixture into 1 stick of softened butter until fluffy then beat in 1/3 cup orange juice and 2 TBL orange liqueur. In a chaffing dish, add butter mixture and heat until bubbling. Dip both sides of cooked crepes in butter, fold and add to pan. Serve warm.
    Chef's Notes:
Make sure you use a non-stick or crepe pan and get is supper hot. You should hear a sizzling sound when you pour in the batter. If batter becomes too thick, thin with 2-4 TBL of additional liquid such as water, milk or milk/alternative.
---