Caramelized Pear Tartin Recipe by Bella Gluten-Free
Servings: Makes 8 servings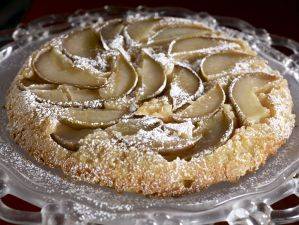 1 3/4 cups sugar (divided)
1/3 cup water
2 lbs. Bosc pears, cored and sliced
6 TBL unsalted butter or butter alternative
2 large eggs or egg alternative
1/3 cup plain yogurt, or yogurt alternative or coconut milk
1/2 tsp lemon zest
1 tsp vanilla extract
3/4 cup Bella Gluten-Free All Purpose Baking Mix
1/2 tsp gluten-free baking powder
pinch of salt
Mix It Up
Preheat oven to 350 degrees andgenerously grease a 9" glass pie plate.
To make the simple syrup, combine 1 cup of the sugar with the water in small saucepan and bring to a boil. Without stirring, boil syrup until it becomes a deep amber, swirling the pan to combine and brushing down sides with wet pastry brush, about 10–15 minutes.
Arrange pears in a spiral pattern on bottom of pie plate and pour the simple syrup over the pears evenly.
In a food processor or with a hand mixer, beat butter until white. Add the remaining 3/4 cup sugar and beat together for 3–5 minutes.
At slow speed add wet ingredients: first add eggs one at a time, then add the yogurt, lemon zest and vanilla; mix until combined.
In a small bowl, whisk together dry ingredients: Bella Gluten-Free All Purpose Baking Mix, baking powder and salt. Add to batter and mix at low speed just until combined.
Pour cake batter over the plums and bake for 35–40 minutes or until cake tester comes out clean.
Let cool completely. Using a flat plate, invert the cake onto the plate. Your caramelized fruit topping will release slowly. If any fruit sticks after inversion, remove and add back to the top in its defined spot by hand. Serve dusted with powdered     sugar.
---