Yummy Blueberry Scone biscotti
Servings: Makes 10 Biscotti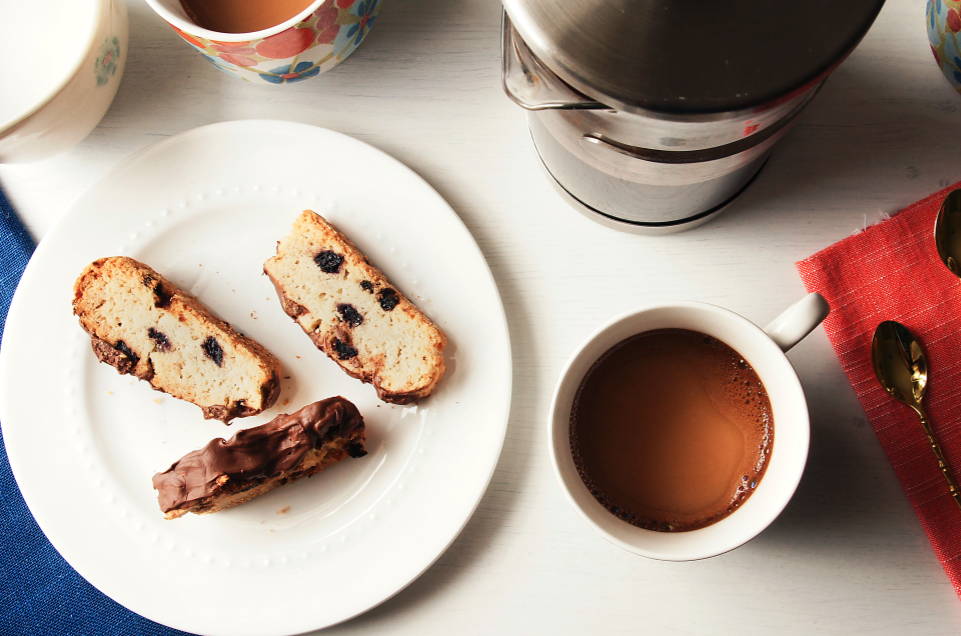 1. Pre-heat oven to 375 degrees Fahrenheit. Grease a standard size 8 ½ " x 4½ " loaf pan well with cooking spray. Set aside.
2. Prepare the chocolate chip cookie mix as directed on package.
3. Transfer the dough mixture into the prepared loaf pan and spread out as evenly as possible.
4. Bake at 375 degrees F. for 15 to 18 minutes, until the cookie dough is cooked through and when inserted, a toothpick wipes away clean.
5. Allow this to cool fully in the loaf pan before slicing in 10 thick slices, as evenly as possible.
6. Turn the oven back on to 375 degrees Fahrenheit. Line a sheet pan/baking tray with parchment paper and set aside.
7. Meanwhile, make a double broiler by bringing a small pan of water to a gentle boil. Once boiling turn heat down to low and continue to simmer. Place a glass bowl over top that is big enough to sit on top of the pan and being sure its bottom doesn't directly touch the water.
8. Add the chocolate chips and butter to the bowl and using a spatula stir continuously until all the chocolate is melted.
9. Once the chocolate is melted, turn off heat and immediately start dipping the biscotti slices, only dipping about 1/3 in the chocolate. Transfer to the parchment lined sheet pan.
10. Once all the biscotti are dipped bake at 375 F. for 20 minutes, or until the cookies start to crisp and are golden brown.
11. Allow to cool fully on the pan before removing and serving.
---