Vegan Ginger Spice Cookies Recipe by Bella Gluten-Free
The combination of spices and rich molasses make this cookie and unbelievable mouth experience.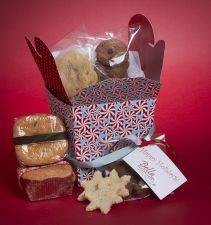 1 cup butter alternative such as Earth Balance Buttery Sticks
1 cup brown sugar
1/4 cup molasses
1 egg replacement equivalent
1/2 tsp. pure GF vanilla
2 1/2 cups Bella Gluten-Free All Purpose Baking Mix
1 tsp. xanthan gum
1 TBL ground ginger
1 1/2 tsp. cinnamon
1 tsp. baking soda
1 tsp. cardmom
1/4 tsp. nutmeg
1/8 tsp. ground cloves
Mix it Up
Preheat over to 350 degrees. Prepare baking sheet with non-stick GF spray or line with parchment paper.
In large mixing bowl, combine dry ingredients.
In kitchen aid or in large bowl with a hand mixer, combine butter and sugar and mix for about 3 minutes.
Mix in the egg replacement, molasses, and vanilla.
Add dry ingredients, slowly mixing until all flour is incorporated in dough. Place bowl in refrigerator for 30 minutes.
Remove half of dough and rollout onto a lightly floured (Bella Gluten-Free All Purpose Baking Mix) surface. Cut out cookies and place them on prepared cookie sheets. Reroll scraps of dough. If dough becomes too sticky to handle, chill again. Repeat with second half of dough.
Bake for 12-15 minutes until light brown. Remove and let cool thoroughly before handling or decorating.
---