Peach Cobbler with Coconut Sugar Biscuits by Bella Gluten-Free
Add a little coconut sugar to our biscuits and enjoy mouthwatering peach cobbler in minutes.
Servings: Makes 10 servings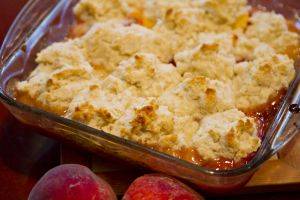 1 Bella Gluten Free Flaky Tender Biscuit Mix
3 TBL coconut sugar
Peach Cobbler
2 lbs fresh peaches, about 5-6 medium size, sliced
1 lemon, zested and juice from 1/2 lemon
1/2 cup coconut sugar or sweetener of choice
Lightly spray 9x9" pan. Preheat oven to 350 degrees.
Biscuits
Prepare one cup of Bella Gluten-Free Tender Flaky Biscuit Mix adding sugar of choice. Using a small biscuit cutter or a large spoon divide dough equally over the top of the peaches.
Peach Cobbler
In medium bowl, combine peaches, sugar, zest and juice and toss lightly to coat. Add fruit to prepared baking dish. Top with walnut size balls of dough. Bake in oven for 25-30 minutes until biscuits are light brown. Serve warm with ice cream or sorbet if desired.
---