Linzertorte Cookies Recipe - Gluten- Free
I found that it was very easy to convert my old recipe with Bella Gluten-Free All Purpose Mix. The lemon peel, orange peel and cinnamon gives these cookies a lovely holiday twist. The simple raspberry jam filling finishes them off nicely. Yum!
Servings: Makes 20-24 cookies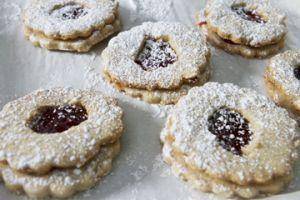 16 TBL butter or butter alternative
3/4 cup sugar, granulated
2 eggs
1 tsp lemon zest
1 tsp orange zest
1 tsp almond extract
2 cups Bella Gluten-Free All Purpose Baking Mix
1 cup almond meal (if allergy use an additional cup of All Purpose Mix
ƒor Filling: Seedless Raspberry Jam or jam of choice
Line two baking sheets with parchment paper or grease lightly.
Cream butter and sugar until light and fluffy, about 3 minutes.
Add eggs, fruit zest and almond extract and combined until incorporated.
Add Bella Gluten-Free All Purpose Baking Mix and almond meal and mix just until combined.
Refrigerate dough for at least 45 minutes. Dough can be frozen until ready to use.
Divide well chilled dough into 2 parts. Between parchment, roll out each part to about 1/8" thick.Use a little of Bella Gluten-Free All Purpose Baking Mix if needed. Cut first dough part into desired shapes using a cookie cutter of choice. Cut the second dough part into the same shape and then cut a smaller shape in center. Reroll the dough and use again for more cookies.
Bake for 12 minutes at 350 degrees or until lightly browned. REmove from oven and let cool. Add 1/2 tsp. of raspberry jam to the top of uncut cookie. Add the second cookie with the cut center to the top and press slightly. Sprinkle with confectioner's sugar.
---