Coconut Chocolate Chip Cookies by Bella Gluten-Free
Bella Gluten-Free All Purpose Baking Mixmakes this simple cookie recipe a 20 minute affair from start to finish. Adding toast coconut to a classic chocolate chip gluten-free cookie adds just the right summer touch. Of course, if coconut is a problem, eliminate it from the recipe and you will still have an awesome chocolate chip cookie. And dairy-free/casein-free is always an option. Don't forget to take advantage of our SHIP4LESS special. One bag of Bella Gluten-Free All Purpose Baking Mix makes at least 2 batches (18 large in each) with some mix left over.
Servings: Makes 15 servings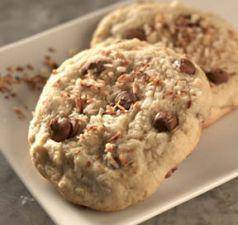 1 cup (2 sticks) butter or butter alternative
1 3/4 cup sugar, (I like to combine 1 cup evaporated cane juice or regular sugar and 3/4 cup brown sugar for a richer taste)
2 eggs or egg alternative (see package for substitution)
1 tsp vanilla extract
1 tsp coconut extract
1 cup gluten-free chocolate chips, semi-sweet or milk
3/4 cup sweetened coconut, shredded
2 cups Bella Gluten-Free All Purpose Baking Mix
1 tsp baking powder
1/4 cup coconut, toasted lightly for the top
Preheat oven to 350 degrees. Line a cookie sheet with parchment paper or lightly grease.
In a small pan, toast 1/4 cup coconut flakes until light brown, about 2 minutes. Set aside.
In a large bowl, mix butter and sugar for until soft and blended. Add eggs, extracts and stir until combined. Add chocolate chips, coconut, Bella Gluten-Free All Purpose Baking Mix and baking powder and mix until well incorporated.
Roll dough into balls (desired size) and dip top into toasted coconut. Place on cookie sheet and bake for 12-15 minutes.
---