Cheddar Cheese Biscuit Recipe by Bella Gluten-Free
Serve these cheesy bisucits for breakfast, dinner or snack. They won't last long.
Servings: Makes 6-8 servings.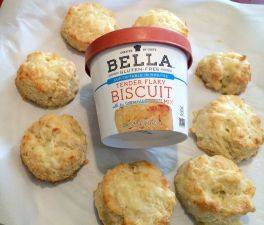 Mix it Up:
Preheat oven to 350 degrees and line baking sheet with parchment paper.
•Prepare Bella Gluten-Free Flaky Biscuit Mix according to instructions.
• Add cheese and chives to dough and fold in.
•Turn dough onto lightly floured surface, gently pat until dough is 3/4" thick. Cut into rounds with a biscuit or cookie cutter.
•Bake for 15 minutes just until bottoms are a golden brown. Yum!
Chef's Tips: Freezing your butter and then grating it into the dry ingredients is my new trick for keeping the butter from melting and creating flaky biscuits. Another secret of a great biscuit is to handle the dough lightly. Don't overmix.
---