Beef Stewpot with Rosemary Biscuit Recipe by Bella Gluten-Free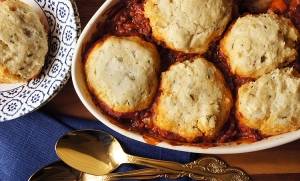 1 x's Bella Gluten-Free Tender Flaky Biscuit Mix,prepared as directed on package
1 TBL finely chopped rosemary leaves
2 TBL milk of choice for brushing
For Stewpot Filling:
2 tablespoons olive oil
1 cup chopped yellow onion
1 cup chopped carrot
1 cup chopped celery
½ teaspoon minced garlic
1 pound lean or extra lean ground beef (you can substitute ground turkey,buffalo etc.)
1 TBL fresh thyme leaves (lemon thyme if possible)
1 x 15 ounce can low sodium tomato sauce
3 ounces (half a 6 ounce can) of tomato paste
2/3 cup beef or vegetable stock
1 tablespoon potato starch or cornstarch dissolved in 3 tablespoons cooking sherry or water pinch of cayenne pepper
salt and freshly ground black pepper
Make the stewpot filling first. In a large sauté pan with high sides, heat the oil over medium heat.
Add the onion, carrot, celery and garlic to the pan and sweat out the vegetables until slightly softened, about 5 to 6 minutes.
Add the ground beef and, as it's browning, crumble it well with a wooden spoon. Cook until the meat is cooked through and brown, about 5 to 6 minutes.
Add the thyme, parsley, tomato sauce, tomato paste, stock, cornstarch/sherry mixture, and cayenne to the pan and season with a bit of salt and pepper. Stir well. Turn the heat down to low and simmer uncovered for 10 to 15 minutes. Turn off the heat and set aside.
Meanwhile, pre-heat the oven to 400 degrees F.   While stewpot filling mixture is simmering, prepare the Tender Flaky Biscuit Mix. Follow the directions on the cup package and prepare the biscuits as directed. Add in the rosemary to the mixture and work into the dough as evenly dispersed as possible. Clean, damp hands or a wet spoon work well for this.
Pour the stewpot beef filling into a 13 x 9" ovenproof dish.
Using a ¼ cup measuring cup, scoop ¼ cup of the biscuit dough and use wet hands to slightly flatten it out, almost as if you are making a hamburger patty. Work quickly so the butter doesn't melt. Place on top of the beef mixture. Repeat until you have seven ¼ cup biscuits on the top, forming a crust. They should all fit edge to edge and cover the top of the stewpot. Depending on which size dish you use, you will need 6 biscuits - 8 biscuits to cover the surface.
With a pastry brush, brush milk on top of each biscuit, place in oven and bake for 20 to 25 minutes. The biscuits should be golden brown, and the sides of the filling should bubble slightly.
Serve immediately, scooped into bowls, making sure each person gets a good bit of the biscuit topping.
---