Pumpkin Spice Cupcake Recipe by Bella Gluten Free
Frost with your favorite butter cream and decorate with GF candy for a Happy Halloween!
Servings: Makes 15-18 servings.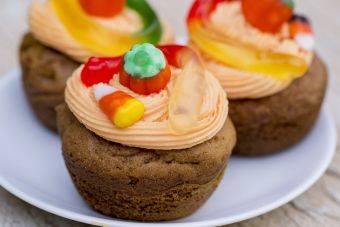 2 cup + 2 TBLS Bella Gluten-Free All Purpose Baking MIx
1/2 cup coconut or brown sugar
1 tsp baking soda
1/2 tsp salt
1/2 tsp cinnamon
1/4 tsp nutmeg
1 cup canned pumpkin
1/2 cup milk of choice
1/2 cup honey
1/4 cup vegetable oil
1 tsp vanilla extract
2 large eggs
1/2 cup chocolate chips (optional)
Preheat oven to 350 degrees and line muffin tim with cupcake papers.
In a large bowl, whisk together dry ingredients; BGF All Purpose Mix, sugar, baking soda, salt and spices.
In another bowl blend wet ingredients: pumpkin, milk, honey, oil extract and eggs.
Add wet mixture into dry and stir until blended. Fold chocolate chips if desired.
Divide between muffin tins and bake for 18-20 minutes until cake tester comes out clean. Let cool and decorate at will.



Orange Butter Cream
1 1/2 sticks butter or butter alternative
3 cups confectioner's sugar
1 TBL milk of choice
1 tsp orange extract
Blend until smooth.
---