Melt-in-your-mouth Mocha Chocolate Cupcakes Recipe by Bella Gluten-Free
I top my cupcakes with almond butter cream but any flavor frosting will do.
Servings: Makes 24 servings.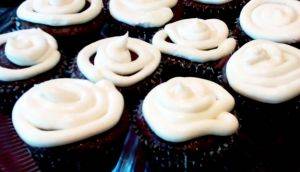 1 1/3 Bella Gluten-Free All Purpose Baking Mix
3/4 cups cocoa powder
3/4 tsp baking powder
1/2 tsp salt
1/2 tsp baking soda
3 large eggs
1/2 cup veggie oil
2 tsp almond extract or flavoring of choice
1 3/4 cups sugar
3/4 cup fresh brewed coffee
3/4 cup coconut milk with a squeeze of lemon
3/4 cup chocolate chips

Scrumptious Almond Butter Cream:

1 1/2 stick butter or butter alternative
2 1/2 cups confectioner's sugar
1 TBL coconut milk or milk alternative
2 tsp almond extract or flavoring of choice
Mix it Up
Preheat oven to 350 degrees. Line 24 muffin tins with cupcake papers.
• Add a squeeze of lemon to the measured coconut milk. Set aside. Milk will begin to curdle making a great buttermilk substitute.
• In a medium bowl whisk together first 5 dry ingredients.
• In a stand mixer or with a hand mixer and a large bowl, blend eggs, oil, extract, sugar, and coffee
• Add dry mix and coconut milk alternating between wet and dry. Beat just until combined.
• Spoon mixture into cupcake wrappers filling them about 1/2 full. Bake for 20-22 minutes or until center is set. Remove to a cooling rack and cool completely before frosting.
Frosting:
• With a mixer cream butter and sugar. Add milk and extract. Divide between 24 cupcakes.
---