Lemon Pound Cake Recipe by Bella Gluten-Free
The rich cake is made with the simple ingredients of fresh lemon, coconut milk and Bella Gluten-Free All Purpose Baking Mix. Its texture is spot on and it even freezes well.
Servings: Makes 10 servings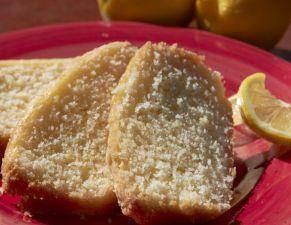 4 large eggs
2 cups sugar
1 cup vegetable oil such as canola
1 cup coconut milk or milk alternative
1 TBL lemon zest (about 1 lemon)
fresh lemon juice from 1 lemon
2 1/2 cup Bella Gluten-Free All Purpose Baking Mix
1 TBL Baking Powder
1 tsp lemon extract
1 tsp vanilla
Preheat oven to 350 degrees. Lightly grease two 9"x 5" loaf pans.
In a heavy stand mixer or with a whisk, beat eggs and sugar for 3-5 minutes.
In a small bowl combine milk, oil, lemon juice, zest and extracts.
In another bowl whisk together Bella Gluten-Free All Purpose Baking Mix and baking powder.
At low speed at dry and wet mixtures a little at a time just until combined.
Bake 30-35 minutes or until cake center springs back to touch.
Chef's Notes:
This cake can be made ahead of time and frozen. Wrap first in foil and then a ziplock. To unthaw, simple place on counter and allow to unthaw naturally.
---