Lemon Layer Cake Recipe by Bella Gluten-Free
Tender, moist and full of lemony flavor, this cake is a celebration in the making. Just add your favorite butter cream.
Servings: Makes 16 servings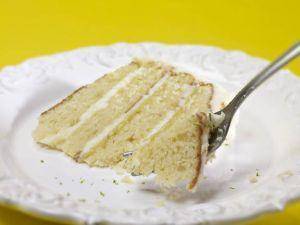 4 large eggs
2 cups granulated sugar
1 cup melted butter or vegetable oil
1 cup milk or milk alternative
1 TBL lemon zest (about 1 lemon)
1/4 cup fresh lemon juice (about 1 lemon)
2 1/2 cup Bella Gluten-Free All Purpose Baking Mix.
1 TBL Baking Powder
1 tsp lemon extract
1 tsp vanilla
Preheat oven to 350 degrees. Lightly grease two 9"cake rounds.
Mix It Up
In a heavy stand mixer or with a whisk, beat eggs and sugar for 3-5 minutes.
In a small bowl combine milk, butter or oil, lemon juice, zest and extracts.
In another bowl whisk together Bella All Purpose Baking Mix and baking powder.
At low speed at dry and wet mixtures a little at a time just until combined.
Bake 30-35 minutes or until cake center springs back to touch. Let sit in the pans for 5 minutes and then invert onto rack to cool thoroughly. Frost with your favorite buttercream frosting.
Chef's Notes:
To make a more favorite flavors, see the back of the Bella Gluten-Free All Purpose Baking Mix package for a Velvety Vanilla or Chocolate Dream Cake variation. If you want a marble cake, mix batter. Divide batter in half and add 1/4 cup cocoa to one half of the batter. Add half of vanilla cake batter to each prepared pan and add spoon droppings of chocolate batter to top of each pan. Swirl with a knife. Bake according to above instructions.
---