Honey Applesauce Cake Recipe by Bella Gluten-Free
You can frost this cake with a cream cheese frosting or serve it lightly dusted with confectioner's sugar. With
Bella Gluten-Free All Purpose Baking Mix you can make a healthy cake great for breakfast, dessert or an afternoon snack.
Servings: Makes 16 servings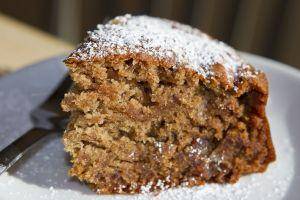 2 cups Bella Gluten-Free All Purpose Baking Mix
1/2 cup almond meal
2 tsp baking soda
1 tsp cinnamon, ground
1/2 tsp nutmeg
1/2 tsp cardamom
1/2 tsp allspice
2 eggs or egg alternative
3/4 cup honey
1/2 cup butter, butter alternative or light veggie oil
24 oz cinnamon or regular applesauce, hot
1 cup chopped dates
Mix it Up
Preheat oven to 350 degrees and lightly grease two 9" round cake pans or one 9x13" baking pan.
Using a stand mixer or a large bowl with a hand mixer or whisk, blend 7 dry ingredients. Add eggs, butter, honey and 1 cup of hot applesauce. Mix until combined.
Add chopped dates to the remaining applesauce. (This helps keep the dates from clumping together. ) Add to mix and beat for about 2 minutes.
Transfer to prepared pan(s). Bake for 35-40 minutes for 9" cake pans or 48-52 minutes for 9x13 baking dish. Cake should spring back to touch when done. Frost with your favorite cream cheese frosting or sprinkle with confectioner's sugar, if desired.
---