Blackberry Coconut Milk Cake Recipe by Bella Gluten-Free

Serve in the morning with coffee or after dinner with ice cream. This beautiful cake is worth the heat. I guarantee it.
Servings: Makes 10 servings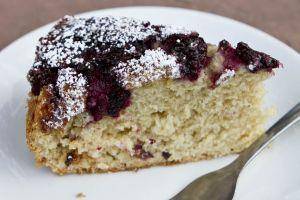 1/3 cup brown sugar
2 1/2 cups fresh berries such blackberries, blueberries, or raspberries
1 1/2 sticks unsalted butter or butter alternative
1 1/2 cup granulated sugar such as organic evaporated cane juice
3 large eggs
2 tsp lemon extract
1 tsp vanilla
2 1/4 cups Bella Gluten-Free All Purpose Baking Mix
2 tsp baking powder
1/2 tsp baking soda
1 cup coconut milk or milk alternative
1 TBL lemon juice
Confectioner's Sugar for dusting
 
Preheat oven to 350. Spray and line bottom of 9" spring form pan with parchment paper.
Evenly distribute 1/3 cup of brown sugar to lined spring form pan. Add berries evenly to the sugar. Set pan aside.
Add lemon juice to coconut milk or preferred milk alternative. Let sit for 5 minutes until it becomes lumpy. Some fat free milks will not form lumps.
With a kitchen aid or stand mixer, blend butter and and sugar together for about 3 minutes. Add eggs one at a time just until incorporated. Add extract and blend.
In medium bowl, whisk together Bella Gluten-Free All Purpose Baking Mix, baking powder and baking soda. Alternate adding milk and flour mixtures to batter and stir in until batter is smooth. Do not over mix.
Pour batter into spring form pan. Bake for 1 hour and 20 minutes or until center is set. Let cool for 10 minutes. Invert pan onto a cake plate and peel off parchment paper. Dust generously with powdered sugar while still warm. Let cool before cutting.
Chef's Notes:
Adding lemon to you milk alternative will create a dairy free buttermilk. The fattier the milk the more clumps you will see.
---