Blueberry Scones with Lemon Curd Recipe by Bella Gluten-Free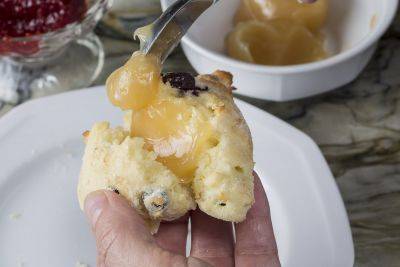 Lemon Curd
6 egg yolks
1/2 cup sugar
2 lemons, zested and juiced
4 TBL unsalted butter
Mix It Up
Preheat oven for to 400 degrees. Prepare a baking sheet with parchment paper.
Prepare Bella Gluten-Free Yummy Blueberry Scone Mix according to directions. Bake for 12 until a light golden brown. Do not over bake or scones will be dry.
For lemon curd, in small saucepan, whisk egg yolks and sugar, lemon juice and Zest. Add buuter chuncks and warm over meduim heat. stir continuously until curd thicken. Do not let the sauce boil. When thicken place in bowl and cool. Refrigerate until ready to use.
Serve with hot scones with lemon curd, butter and jam.
---