Pumpkin Spice Quickbread Recipe by Bella Gluten Free
Frosted or plain, there is no trick to this wonderful treat. One recipe makes two large loaves.
Servings: Makes 30 servings.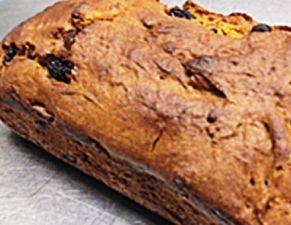 4 large eggs
2 cups brown sugar
2 tsp vanilla
1 cup veggie oil such as grapeseed or canola
1 can pure pumpkin (if using fresh use scant 2 cups)
3 cups Bella Gluten-Free All Purpose Baking Mix
2 tsp baking powder
1 tsp baking soda
Zest of one orange
2 tsp ground cinnamon
1 tsp ground cardamom
1/2 tsp nutmeg
1 cup raisins
3/4 cup chocolate chips (optional)
Preheat oven to 350 degrees and lightly grease 2 loaf pans.

• Whip eggs and sugar together in mixer or with whisk for 3 minutes until fluffy.

• Add vanilla, oil and pumpkin and blend.

• In a medium bowl, add all dry ingredients and whisk to blend. Add to egg mixture. Whisk just until blended.
Fold in raisins and chocolate chips.

• Divide between prepared pans and bake for 35- 45 minutes until knife comes out clean. Serve warm or let cool and frost with your favorite butter cream.
---