Parker House Rolls Recipe by Bella Gluten Free
Servings: Makes 36 servings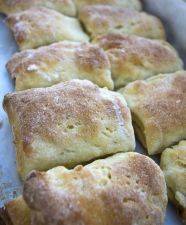 1 envelope Active Dry Yeast or 2 1/4 tsp
1/4 cup warm water ( about 110 degrees)
1 cup milk or milk alternative, warm
1- 1/12 tsp Kosher or course salt
1/4 cup butter, veggie shortening, or veggie oil
1/4 cup sugar
1 egg, room temperature
3 1/2 cups Bella Gluten-Free All Purpose Baking Mix
3 TBL melted butter or butter alternative for brushing the tops
Mix it Up
Line baking sheet with parchment paper or light grease. Preheat oven to 350 degrees.

• In bowl of stand mixer with paddle attachment or food processor, or a large mixing bowl, combine yeast, hot water and 1 tsp sugar. Let stand for 10 minutes until foamy head forms.
• In a small saucepan, heat milk/milk alternative until warm to touch. Add butter/ butter alternative, sugar and salt until melted. Remove from heat. Add milk to yeast mixture and stir or pulse to combine. (Making sure your milk is lukewarm so as not to kill the yeast).
• Add egg and mix until combined. Add Bella Gluten-Free All Purpose Baking Mix a little at a time, mixing together until dough forms. Transfer dough onto a lightly floured surface or lightly floured parchment paper. Divide dough into 4 equal parts.  

• Using only as much Bella Gluten-Free All Purpose Baking Mix needed to handle the dough, roll each part into a rectangle about 12x6". Cut dough into 4 x 2" rectagles. Brush each rectangle with melted butter. Fold unbuttered side over the top and pinch on edges. Place rolls touching edges in sheet pan. Let rise in warm area for 45min-1 hour.
• Bake for 25-30 minutes until golden brown. Brush top with butter/butter alternative and sprinkle with sea salt if desired.
---