Orange Cranberry Teacake Recipe by Bella Gluten-Free
The beautiful combination of orange and cranberry make this teacake a delicious hostess gift, dessert or breakfast bread.
Servings: Makes 12 servings.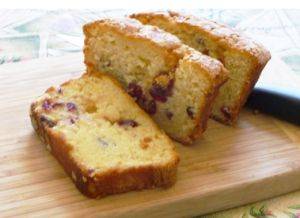 4 large eggs
2 cups sugar
1 cup vegetable oil such as canola
1 cup coconut milk or milk alternative
1 TBL orange zest (about 1 orange)
1/4 cup fresh orange juice (about 1 orange)
2 1/2 cup Bella Gluten-Free All Purpose Baking Mix
1/2 tsp nutmeg
1/4 tsp ginger, ground or 1/2 tsp fresh grated fine
1 TBL Baking Powder
1 tsp orange extract
1 tsp vanilla
1 cup cranberry, frozen or dried
Mix it Up
Preheat oven to 350 degrees. Lightly grease two 9"x 5" loaf pans.
In a heavy stand mixer or with a whisk, beat eggs and sugar for 3-5 minutes.
In a small bowl combine milk, oil, orange juice, zest and extracts.
In another bowl whisk together Bella All Purpose Baking Mix, baking powder and spices. At low speed at dry and wet mixtures a little at a time just until combined.
Bake 30-35 minutes or until cake center springs back to touch.

Chef's Notes:
If you cannot find cranberries( some stores don't stock them all year round) you can use dried cranberries or even crasins.
---